Laurence Guyon exclusive for "Orthodox Christianity and the world."
Translated from French to Russian by Julia Zubkova. Hieromonch Gerasim (Gascuel) – Photos
Father Gerasim, previously known as Gerard Gascuel, a famous photographer and journalist, became an Orthodox monk thirty years ago. He lives in the skete monastery of Saint Foy in the Cevennes Mountains, which were once used as a refuge for Huguenots. Author of numerous books and the editor of «Art Sacré», he regularly exhibits his photographs in Switzerland, Germany, France, and Russia. Father Gerasim kindly agreed to talk to me.
After two hours of contemplation of the mountains, I went to the skete monastery of Saint Foy, a rough and squat medieval looking building. The door was opened by a young monk, Father Joseph – there was something subtly Russian in his countenance. Father Gerasim's southern appearance reminded me of a Greek or Serbian monk. I brought a dictaphone, but Father Gerasim, who was himself a journalist, advised me not to use it. So I took notes as a student.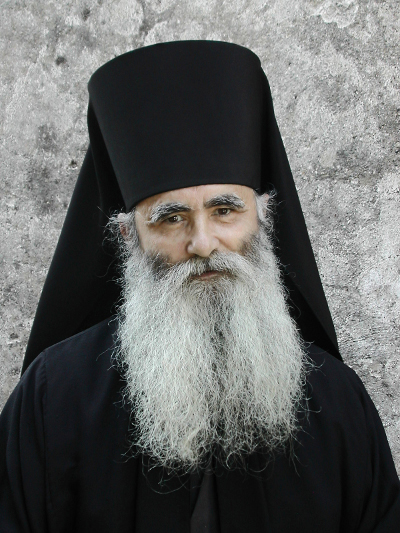 I prepared a few questions for Fr. Gerasim which included how he became Orthodox, what he found beautiful in it, what he thinks is the place of an artist in the world and in the Church, etc. Father Gerasim, however, knew perfectly well what to say himself, and I listened to him with all my attention.
To be entirely your own self
"How I came to Orthodoxy does not really matter for there were Catholics, Protestants and Orthodox in my family … What is interesting, however, is how I became a monk. As a journalist and a photographer, I lived a life of a thirty-three year old child who was very successful. I had girlfriends, led a fascinating bohemian existence, had friendship with the great artists of my time, and chronicled everything devoted to art. For this very reason I went to Mount Athos when I was thirty-three years old. That is the age when life is often unstable, and what became a turning point for me at that time was preparing a report about icons.
On Mount Athos, as well as in some monasteries in Russia, the bones of monks are kept on shelves. In front of this cluster of skulls, I, who never thought of death, realized that my life will inevitably end, and I'm walking past myself. I wanted to ask a Greek monk who was there something about icons but I was very embarrassed because he did not speak a word in French.
Because of our inability to communicate in French, he began to sing church hymns that came to his mind… His singing touched me deeply because it had everything: ancient traditions, beauty, depth and even sensuality. That singing was better than words.
Upon my return, I sold everything I had and said goodbye to my Japanese girlfriend who knew me very well, even better than my parents. I wanted to be myself. I realized that I must be a witness of grace, a witness of Christ.
Having spent one year at Stavronikita Monastery on Mount Athos, I went to the monastery of St. Sabbas the Sanctified in Judea located in the heart of the desert. The monastery was founded in the sixth century and is as ancient as Saint Catherine's Monastery of Sinai.
I found a confessor, Father Seraphim, who taught me God's testimony, that is, that Christ is alive, He's here, now and forever, and if He seems hidden, it's because we ourselves put a barrier between Him and us. Here comes the necessity of asceticism, which leads to the purification of mind, emotions, and desires. Asceticism is gifted by God's grace, without which we will not achieve anything. The same thing happens when, for example, we love a woman and work miracles for her, which are nothing for us because we are in love.
I have to tell you in case you do not know (and you probably know this, because in Russia everything is covered with snow during the winter), that there is practically nothing in the desert that can distract your eye and your mind. Therefore, prayer is vital because prayer is the only way to stay sane. In the monastery of of St. Sabbas, I had a thousand years. My element was eternity.
When I was tonsured to the Stavrophore, I had to leave St. Sabbas the Sanctified monastery because it was intended for novices and hermits. They wanted to send me to Jerusalem, which I did not want, and instead returned to Paris with the blessing of my spiritual father.
In Jerusalem, looking at endless wars that had been affecting the region, I was looking for a way to conquer my mind. That seemed possible by means of two activities: art and sport.
In Paris, I was ordained a priest in the Alexander Nevsky Cathedral on Rue Daru. My confessor at that time was Father Boris Bobrinskiy. There I worked with juvenile offenders under the program of the legal protection of minors (PJJ), and mainly used sport activities for re-socialization. Then, for the same reason I was sent to Marseilles.
The Brotherhood of St. Martin and St. Foy skete monastery
I've talked to artists a lot because often they are the ones who ask real questions about harmony, beauty and truth. So I created an association – the Brotherhood of St. Martin – which brings together 800 people of creative professions, but not necessarily Orthodox. We accept artists from other traditions as well if he has put his talents at the service of his faith. We also accept carpenters, farmers and cooks – people who testify about their faith by means of their work and who have the knowledge to hand over. We have organized many pilgrimages to Greece, Russia, and Ethiopia in order to see artists in the context of their environment.
Artists who belong to the association felt that they needed a place for meetings and as a result a skete monastery was established on the place of a real estate association in 1996. We purchased this property (with no credit, because I would prefer to be very poor, but not in debt), and are gradually recovering.
Presently, it is only Father Joseph and I who live here, and in a nearby house live two nuns, Sister Enimi and Sister Vera. We also have a hotel with a restaurant exclusively for pilgrims.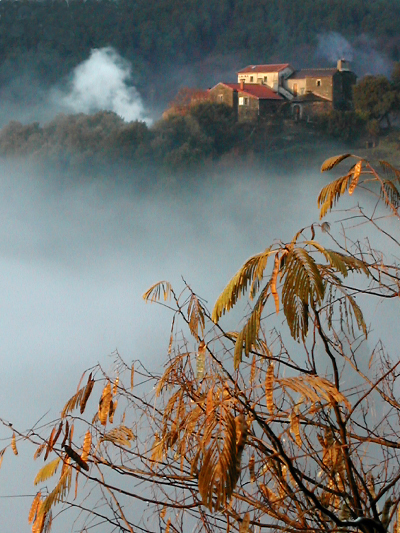 The skete is a former Benedictine monastery, in other words a house of prayer. It is also a transit point for the garrison nearby. It bears the name of Saint Foy because it belonged to the castle of Sainte-Foy founded in the III or VI century. Part of the skete belongs to the XII century. It used to be a signal tower located on the road to Saint Jacques de Compostela which was built in the second half of XVI century.
We conduct services in Church Slavonic and French. Many of our parishioners are from Russia who either study or teach in the Higher Mining School in Alesia. Some of them – the residents of the department of Lozère – get married to Russians, because they are often not able to find French women willing to live in the country away from civilization.
Love of the beautiful
"The first piece of art a man has to create is himself! He should make his life a work of art, and when he finds inner peace radiating outwards, he has to put love in everything he does. You should make your life a holiday and regain the ability to admire, which we often suppress. That's why I started practicing photography, which has always been my primary means of expression. In addition to that I write poetry and books; I have published dozens of books, and I cook food in the same vein as everything else.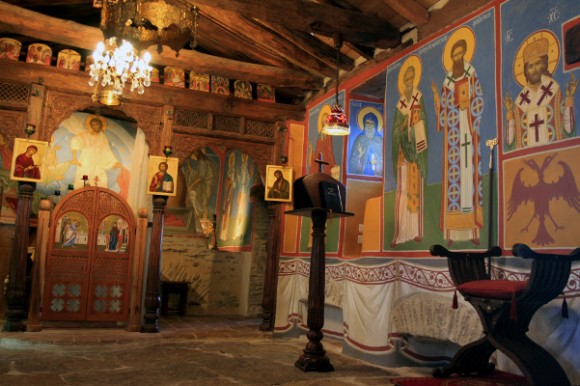 Manual labor is losing value in the West. The French are strong in terms of words and concepts, but we should walk away from words and should find other languages because many skills that are not handed over are lost. Our aim is to support this transfer of knowledge. "
Father Gerasim stops for a moment to let me admire the embossed cover of his liturgical Gospel, made in Greece, and a catalog of beautiful Russian embroidery, regretting that the cut of the garment, where it is executed on, is not of very good quality.
The eternal return
Fr. Gerasim continues, "Artists can express themselves as they wish, but in the church, we stress the need to hand down precisely the traditions of frescoes, icons, mosaics, worship and singing.
Tradition is not something that belongs to the past; it shows itself in the eternal return. We need to get out of the virtual world and do something with our own hands so that we might hear the answer that will test us.
When I was practicing photography with thieves in prison and they would say that my photos were good and their ones were blurry, I would blame them, "Because you're too nervous, you should blame yourself and not your photo." Art allowed them to say things they could not express in words, for example, they could not tell about rape or abuse in childhood.
We should move away from cost-effectiveness and move toward authenticity. Everything we do must be focused on Christ, be it gardening, cooking, poetry or art. We are witnessing the unseen, the sky, and we do not expect any gratitude, because we do it for the love of the beautiful. We become like a poppy, a scarlet kiss facing the sky, opened for infinity.
Photography helps me work with time. Photography is a language. So, I take a photo of the same object, let's say of a branch, at various times: during the winter, in spring, with buds and flowers, and in autumn with fruit. What is the truth about this branch? None of these pictures can express the fullness of truth since truth is an eternal present which cannot be locked in to a form. The only truth is Christ who says: I am the Truth. Every moment is unique, every moment is a praise to God.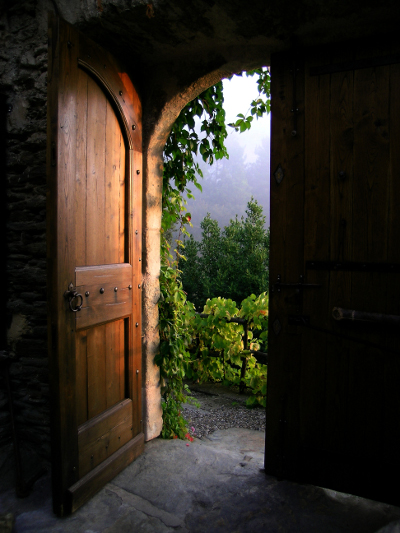 All of my photos were taken inside the monastery: flowers, fruits, various objects, the spring that flows from the Pyrenees, the view from the terrace where you drank coffee. Look, there are four different moments of time here. Through photos, poetry, and cooking, I want to show the greatness of simplicity.
At the end of our conversation, Father Gerasim and Father Joseph took me to show places where everything is natural, harmonious, exuding history, life, feeling, and poetry. Coarse and glittering slate of the roofs and walls, small rooms with antique furniture, soothing colors, beautiful icons and old photographs.
The chapel's wooden frame and beautiful icons are all of very high quality. Frescoes in the chapel are made by Jaroslav Dobrynin and Father Zenon painted the Royal Doors. Other icons there were painted by a Greek priest, Father Nikos; the magnificent stained glass windows, similar to the partition of pure water ice, were made by Henri Guerin; embroidery of the liturgical vestments and decoration of different fabric were done by Emmanuel Vernou. Father Gerasim is seeking a jeweler who can make all the metal things: candlesticks, censers and so on, but he has not found yet.
There is nothing luxurious there, but it is stunningly beautiful and genuine; indeed, it is the greatness of simplicity, the meaning that we have lost in our time together with the taste for silence. However, beauty leads to goodness, beauty leads to truth, beauty leads us to God.
At the request of Father Gerasim, Father Joseph suddenly began to sing in Church Slavonic: "Holy God, Holy Mighty, Holy Immortal, have mercy on us," which led me to a state of peace, grace and gratitude, and made me forget everything in the world on the other side of the mountains, where the environment, appearance and essence of people are distorted – where the eyes are blind, ears are deaf, and souls are callous.
Translated from Russian by Marina Smirnova
Edited by Yana Samuel