Millions of Orthodox Christians across the globe are celebrating Christmas on Tuesday with one of the most revered Christian relics: the Gifts of the Wise Men, brought to Moscow after leaving Greece for the first time in more than 500 years.
January 7 is Christmas Day for Russian Christians, the Jerusalem Orthodox Church, the Serbian Orthodox Church, the Georgian Orthodox Church, the Ukrainian Greek Catholic Church, as well as for some Protestants who use the Julian calendar. According to the Julian calendar, the holidays come thirteen days after the Christmas festivities in the Catholic Church.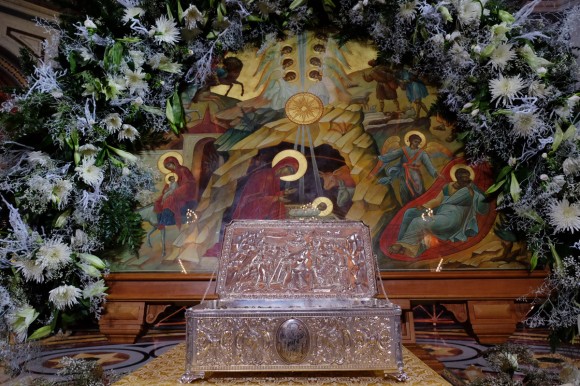 One of the most important Christian relics, the Gifts of the Wise Men to the newborn Jesus, were delivered from Thessaloniki to Moscow on the eve of the Orthodox Christmas. The holy Gifts have left the Agiou Pavlou (St. Paul's) monastery on Mount Athos for the first time since the 15th Century. The sacred relics brought from Greece are to be displayed in the Russian capital until January 13. At present they are drawing queues of 5 hours.
Although Russia is a secular state, a recent study has found that over 40 percent of its citizens thought Orthodox Christianity was the state religion; up to 70 percent of Russians describe themselves as Orthodox believers. But only 14 percent of the respondents said they attend religious services at least once a month.
Up to 230,000 believers attended overnight celebrations of Orthodox Christmas in the 326 churches and cathedrals in the Russian capital. Midnight Mass in Moscow's Christ the Savior Cathedral was conducted by Patriarch Kirill, the head of the Russian Orthodox Church, with thousands attending including Prime Minister Dmitry Medvedev. President Vladimir Putin prayed alongside several hundred other parishioners in the newly-built church in the southern city of Sochi, which will host the Sochi Winter Olympics next month.
Source: RT