Patriarch of the Georgian Orthodox Church, Ilia II, met Russia's President Vladimir Putin in Moscow on January 23 in presence of head of the Russian Orthodox Church Kirill.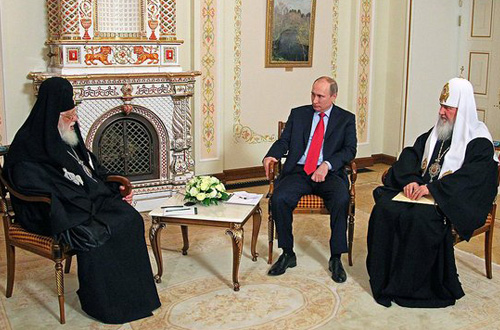 "I want to convey to you huge greetings from our new Prime Minister [Bidzina Ivanishvili]," the Georgian Patriarch told Putin.
"He [PM Ivanishvili] does everything possible and required for mending ties with everyone," he added. "I think that those problems, which exist between us, will be removed and we will again be brothers."
Putin thanked the Georgian Patriarch for "doing everything possible for maintaining humanitarian, spiritual, cultural contacts between our brotherly people in this difficult conditions – I mean under the condition of uneasy inter-state relations between Russia and Georgia."
"I am very glad to see you in Moscow," the Russian President told the Georgian Patriarch.
Patriarch Ilia II, who left for Moscow on Sunday, received an award from Russian Orthodox Church's International Foundation for the Unity of Orthodox Christian Nations (IFUOCN) for contribution to "strengthening unity of the Orthodox Christian nations."
Patriarch Ilia II said in Moscow on January 22 that current relations between Georgia and Russia "are not normal".
"We should spare no efforts in order to bring these relations out of the deadlock. I want to say that Russia has the same desire," he said.
Source: Civil.ge