May 16, 2013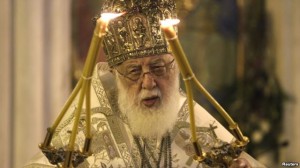 The head of Georgia's influential Orthodox Church has called on authorities to ban a gay-rights rally set to be held in the capital, Tbilisi.
In a statement, Georgian Patriarch Ilia II described homosexuality as an "anomaly and disease" and said the gay-pride rally scheduled for May 17 would be "an insult" to Georgian tradition.
Gay-rights defenders plan a rally to mark the International Day Against Homophobia.
Ultraconservative Orthodox believers have said they will hold a counterdemonstration and have threatened to disrupt the gay rally.
The Tbilisi Mayor's Office said that no permission is required from the authorities for holding a rally, which is a constitutional right.
The mayor's office added that the Interior Ministry has been ordered to protect gay activists during the demonstration.
Georgian Prime Minister Bidzina Ivanishvili on May 15 said that sexual minorities "have the same rights as any other social groups."
Source: RFERL