May 20, 2013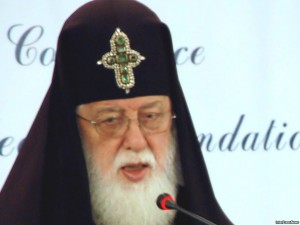 Georgian Patriarch Ilia II has issued a statement on the events that occurred in Tbilisi on Friday, when thousands of people came to the city's Prospekt Rustaveli to prevent representatives of the NGO Identity from holding a rally in support of the rights of sexual minorities.
A huge crowd of people broke police cordons and tried to attack the rally participants, but they were taken from the center of the city by buses. Some thirty people, including police officers and a journalist, were hurt in the clashes.
"I want to respond to today's events in Tbilisi. We don't accept violence, but it can't be promoted either. People can fall into sin. I can say it's a sin. No religion justified this sin. At the same time, we can express the pain of our heart without interfering in their private life. I hope everything will calm down and I am calling on both parties to leave the streets, go home and pray for each other," Ilia II said in his televised address.
Next day two groups of people – sexual minority activists and anti-homosexuals – continued their protests gathered in front of the government headquarters for demonstrations.
One of Saturday's two groups of demonstrators, mostly members of the Civil Front nongovernmental organization, was demanding a legal ban on sexual minority propaganda.
The other group was demanding punishment for perpetrators of violence against champions of sexual minority rights and for "those who encourage violence." The group was claiming that clerics were particularly active in encouraging Friday's anti-homosexual actions and demanding calling them to account for this.
Police formed a cordon between the two groups, which were shouting at each other.
Source: Interfax-Religion