When tragedy strikes, any tragedy, some people turn to God and to His Holy Church. The ministers of the church are supposed to have the answers for what happened. But sometimes, like the rest of you, we struggle trying to make sense of the slaughter of innocents. Sure we can somehow wrap our minds around things like Hurricane Sandy that is after all a natural disaster, but what of man-made disasters like the shooting in Newtown, Connecticut? How are we supposed to make sense of that?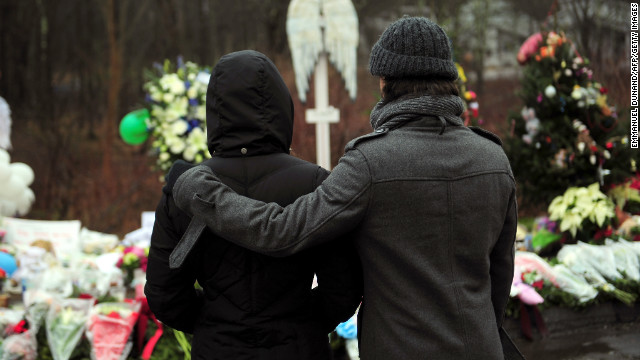 We want to stand and scream WHY? We want to get angry and put the blame on someone. We begin to think about questions of gun control and school safety, all these are normal feelings and logical questions to ask. Then we find ourselves in the grip of extreme sadness. Anyone who has children or who has been in the presence of children cannot help but feel the pain and suffering of the parents of the children whose lives were cut short, who stood by helplessly watching these events unfold before their eyes.
Looking at a tragedy like this from an Orthodox perspective we only have one answer, this was evil, there is no other way to describe it. The world is trying real hard to remove God, and when God is removed the evil one takes His place. When the good is removed that space gets filled with the opposite of good, and that is evil. In a place where innocence should be present, on Friday, we saw the face of evil. We will never know the reasons why this happened and anything at this point is just speculation.
In the coming weeks our Church will remember the Holy Innocents, these are the ones that were killed at the order of Herod after the birth of Christ. We read in the Gospel of St. Matthew:
The Herod, when he saw that he was deceived by the wise men, was exceedingly angry; and he sent forth and put to death all the male children who were in Bethlehem and in all its districts, from two years old and under, according to the time which he had determined from the wise men. Then was fulfilled what was spoken by Jeremiah the prophet, saying: "A voice was heard in Ramah, lamentation, weeping, and great mourning. Rachel weeping for her children, refusing to be comforted, because they are no more."
In a small Connecticut town on Friday we saw this story come to life. The world now has a few more Rachels that cannot be comforted because their children are no more! A senseless slaughter of innocents by Herod was because of anger and jealousy, in other words evil. The innocents killed on Friday, 8 boys and 12 girls were killed in a senseless act because of evil!
But what of us?
We Christians live in Hope, we live in Hope that a baby born in the lowest of conditions was born to bring hope into the world. We live in hope because we know that this is not the end, that this world will pass away and that a new world will be created where there is no pain nor sorrow but life that has no end. We live in hope because God sent His only Son into this crazy world of ours to bring us hope! We live in hope because of the Cross, the very cause of evil that became the key that opened the door the door to eternal life. We live in Hope because an innocent was put to death to open the door to our new and permanent home!
We have to have hope!
On the wall in my Church hangs an Icon of the story of Jesus taking the little children to Him. I cannot help but believe that is what happened on Friday, Jesus welcoming those children to their eternal home. This morning I heard a story of the Roman Catholic Priest at St. Rose of Lima Church in Newtown Connecticut. He was talking about one of the children killed on Friday, and he said that she was to play and angel in the Christmas pageant, he paused and then he said she is now playing one in heaven!
In times like these, I go to Scripture to try and get answers. Today I find comfort in the words of St. John written in the Book of Revelation. St. John is speaking of the new world, the world that will be after the restoration, when all will be made new, and we will walk with God. Chapter twenty one verses three and four:
Behold, the dwelling of God is with men. He will dwell with them, and they shall be his people, and God himself will be with them; he will wipe away every tear from their eyes, and death shall be no more, neither shall there be mourning nor crying nor pain any more, for the former things have passed away. . . .
Over the coming weeks, we will gather with family and celebrate the birth of a baby more than 2,000 years ago. A baby born into a world that would hate Him before they even know Him. A world that would eventually bring that hate to the Cross, but that baby flipped that hate into love. He was there on that cross with his arms wide open to receive us all home into the loving arms of the one who created us! We are not of this world my friends, we are of the world to come.
There is no way to console the grief of those affected by this senseless act. There are no words I can use that will help make sense of what happened. How we get through this, is with hope, if we have no hope then all is lost.
Source: TheHuffingtonPost.com