May 3, 2013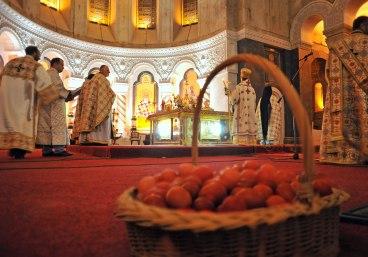 BELGRADE — The Serbian Orthodox Church (SPC) and Orthodox worshipers are today marking Good Friday, to commemorate the crucifixion of Jesus Christ.
The Orthodox calendar Easter is a four-day, non-working holiday in Serbia.
Liturgies are not served in temples on this day, marked as a day of mourning by Christians. Instead, excerpts are read from the Gospel during services, detailing the events of the Holy Week.
Christians are today expected to fast, while in Serbia they also refrain from work, and color Easter eggs – traditionally to red.
On Sunday, May 5, the resurrection of Christ will be celebrated.
SPC Patriarch Irinej issued his Easter message, to call on all believers to, by standing with God, remain standing with their soul and heart with the suffering Serb people in Kosovo and Metohija, and in all regions where the Orthodox are suffering because their name, and their faith in Christ.
In his traditional holiday message, the patriarch said that the truth of resurrection resonates deeply in our time, full of sorrow and suffering, the time in which the question of a meaning and purpose of life becomes relevant as hardly ever before.
He pointed to the violence, terror, plunder, uneasiness that took hold of the souls of people across the globe, inclination to crime, endangerment of peace and happiness of others which are coming from the souls devoid of spirituality and moral values, mostly young people who get lost even before finding some path in life.
Source: B92