May 10, 2013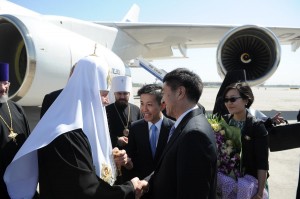 BEIJING, May 10 (RIA Novosti) – The head of the Russian Orthodox Church, Patriarch Kirill, on Friday arrived in China for an official visit during which he will carry out services in Orthodox Cathedrals and meet with senior Chinese officials.
"The head of the Russian Orthodox Church will meet with government leaders in China, leaders of religious groups, and also with the Chinese officials responsible for religious affairs," the Patriarch's press service told RIA Novosti.
During the five-day visit, the Patriarch will hold a service in the Pokrovsky Cathedral in Harbin, and will meet members of China's Orthodox Christian community in the Russian Embassy in Beijing.
The Russian Mission in China stretches back to the seventeenth century, and by 1949 over 100 Orthodox Churches had been established in China.
After the People's Republic of China was established, the Soviet Union signed agreements with the new, communist, China that jurisdiction over these Orthodox churches would be transferred to the Chinese.
The Chinese Orthodox Church became independent from the Russian Orthodox Church in the 1950s, ending the Russian Orthodox Church's mission in China.
 Source: RIA-Novosti