May 22, 2013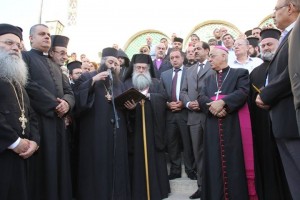 Over two thousand people marched through the streets of in a candlelit procession praying for the release of two Syrian bishops who were abducted a month ago in Aleppo in Syria.
On April 22, Syrian Orthodox Metropolitan Mar Gregorios Yohanna Ibrahim and Greek-Orthodox Bishop Boulos al-Yazigi were kidnapped by unknown abductors during a humanitarian mission. There has been no news on the whereabouts of the two prelates since their abduction.
According to Fides News Agency, the March was attended by various leaders and representatives of Churches and ecclesial communities in Jordan. The procession  began at the Greek Orthodox Cathedral of the Presentation of Jesus in the Temple and ended at the Syrian Orthodox Church of St. Ephrem.
A statement signed by the bishops and heads of Churches condemning the kidnappings was read by Archbishop Maroun Laham, Patriarchal Vicar for Jordan of the Latin Patriarchate of Jerusalem.
Calling the kidnappings of the two prelates "unacceptable", the Heads of the Churches stated that the abduction raised concerns not only over their lives, but over the moral of the Syrian people in Aleppo.
"The bishops and Representatives of the Churches in Jordan hope that this silent candle march, prayers and calls will soften hearts and bring back the esteemed Bishops immediately," the statement read.
"In this silent march, the bishops and representatives of the Churches in Jordan express solidarity with the Greek Orthodox Patriarchate of Antioch and all the East, represented by His Beatitude Patriarch Youhanna 10th Yaziji  Patriarch of Antioch and All the East,  and the Syriac Orthodox Church represented by His Holiness Mar Ignatius Zakka IIwas, and call for prayer for the two sister churches and for all the churches in the world, whose leaderships never seized to call upon all people of conscience and good will in collaboration with all official, religious and civil authorities for the release of the esteemed Bishops."
The representatives of the Churches of Jordan also called for restore peace in Syria as well as for respect for the Holy Sites in Palestine. They expressed their hope that renewed unity and solidarity would flourish between Christians and Muslims in the Middle East.
Renewing their call for the release of the two Bishop, the statement asked that they be "returned unharmed to their churches and society."
Source: Zenit News Agency