May 18, 2013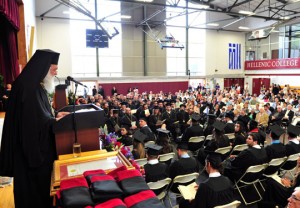 Holy Cross Greek Orthodox School of Theology conferred today an Honorary Degree of Doctor of Divinity, Honoris Causa, to His Beatitude Archbishop Ieronymos II of Athens and All Greece, during its 71st graduation ceremony.
Archbishop Demetrios of America conferred the honorary title to the Primate of the Autocephalous Orthodox Church of Greece following the citation by the President of Hellenic College Holy Cross, Rev. Fr. Nicholas Triantafilou. In the citation, Fr. Triantafilou portrayed His Beatitude as a Hierarch, a Shepherd and a Leader and in recognition of his exceptional intellectual, pastoral and ecclesiastical achievements in general asked the recipient for "the singular privilege of honoring you and joining your name with that of our sacred institution."
Archbishop Ieronymos accepted the honor and delivered the commencement address to the graduates. In his address he said that "this School is indeed a jewel of our Church; a lighthouse of Orthodoxy in the vast Western Christian and multicultural world." He also outlined some crucial and essential questions facing prospective clergymen and Orthodoxy in general, and offered meaningful answers and paternal admonitions. (See the text in its entirety here.)
The conferral of Degrees to a total of 63 graduates followed, 20 were graduates from Hellenic College and 43 from the Holy Cross School of Theology.
His Eminence Archbishop Demetrios of America spoke at the end of the ceremonies and summarized the key qualities of His Beatitude, noting "his uncompromising faith, his unconditional dedication to the Church and his high sensitivity to people who suffer."
Tomorrow, Sunday, May 19, 2013, His Beatitude Archbishop Ieronymos II of Athens and All Greece will preside at the Archieratical concelebration of the Divine Liturgy at the Archdiocesan Cathedral of the Holy Trinity in New York. Concelebrating the Liturgy will be Archbishop Demetrios of America and the two hierarchs who accompany His Beatitude, Metropolitan Chrysostomos of Messinia, and Bishop Gavriel of Diavleia.
The Divine Liturgy will be broadcast live by satellite through various outlets around the world, in Greece, the United States, Canada, Australia and in some European countries.
Source: GOARCH