May 28, 2013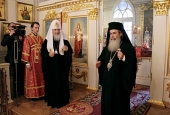 His Beatitude Patriarch Theophilos III of Jerusalem and All Palestine and His Holiness Patriarch Kirill of Moscow and All Russia arrived in St. Petersburg in the evening of May 27, 2013. This day marks the 310thanniversary of the founding of the city on the bank of the Neva River.
From Pulkovo airport the Primates proceeded to the historical building of the Sacred Governing Synod and the Senate. At the entrance to the building, which houses the Boris Yeltsin Presidential Library, they were met by its director general, Alexander Vershinin.
The Primates of the Church of Jerusalem and the Russian Church went to the church of the Holy Fathers of the Seven Ecumenical Councils, where a solemn prayer service was celebrated.
The church choir conducted by the Revd. Nikolai Botkin sang hymns in the Church Slavonic and Greek languages.
After the service, His Holiness Patriarch Kirill cordially greeted all those gathered and reminded them of the history of the building. He said that we looked at it with special emotions as crucial for the Church decisions were taken here during the Synodal period in the life of our Church. We are happy that the Holy Synod of the Russian Orthodox Church is housed here at present, and that the northern capital of Russia can be called the Synodal capital.
His Beatitude Patriarch Theophilos also addressed the worshippers.
Source: DECR