March 5, 2013
On 4 March 2013, His Holiness Patriarch Kirill of Moscow and All Russia received Metropolitan Antony of Borispol, chancellor of the Ukrainian Orthodox Church, and Mr. Serhiy Lyovochkin, head of the Presidential Administration of Ukraine.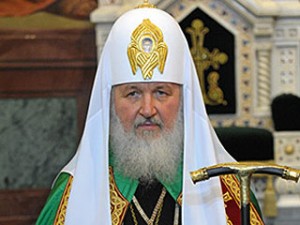 Among the issues discussed at the meeting was the preparation for the joint celebration of the 1025thanniversary of the Baptism of Rus'.
As His Holiness Patriarch Kirill noted in his report at the recent Bishops' Council, the 1025th anniversary of the Baptism of Rus' should be widely celebrated by the Church and the public all over the territory of the historical Rus'.
Taking part in the meeting were also Metropolitan Hilarion of Volokolamsk, chairman of the Moscow Patriarchate's Department for External Church Relations, and archpriest Nikolai Balashov, DECR vice-chairman.
Source: DECR