May 29, 2013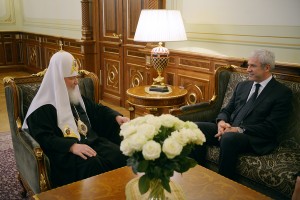 On 29 May 2013, His Holiness Patriarch Kirill of Moscow and All Russia received Mr. Boris Tadić, former President of the Republic of Serbia and incumbent President of the Democratic Party of Serbia at his request. The meeting took place at the work-room of His Holiness in the building of the Holy Synod in St. Petersburg.
His Holiness expressed his deep concern for the fate of the Serbian people and Orthodox holy sites in Kosovo, for instance, in the light of the recent agreement between Serbia and Kosovo reached through the mediation of the European Union. Security of the Serbian people and protection of Orthodox monasteries in Kosovo should be guaranteed in any new agreement.
Taking part in the talk were Metropolitan Hilarion, chairman of the Moscow Patriarchate's Department for External Church Relations, and Ms Jelica Kurjak, former Serbian ambassador to Russia.
Source: DECR