April 1, 2013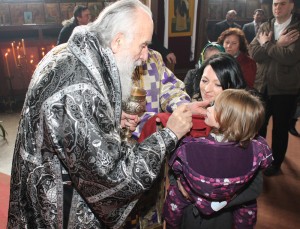 His Holiness Irinej, Archbishop of Pec, Metropolitan of Belgrade-Karlovci and Serbian Patriarch, in capacity of the administrator, visited the Diocese of Middle Europe for the second time in the last two months.
His Holiness arrived in Frankfurt on Wednesday, 27 March, at the airport where he was welcomed by bishop's deputy, protopresbyter-stavrophor Milan Pejic and the head of Frankfurt's church protonamesnik Simon Turkic. Following the arrival, Serbian Patriarch visited a new church building of our Holy Church in Frankfurt. The clergy of the Diocesan deanery for South Germany and many believers gathered at the church to welcome the Patriarch.
After the cordial reception, the Patriarch continued his visit with his entourage to Himmelstier, the seat of the Diocese of Middle Europe.
On Thursday, 28 March, after morning service, His Holiness addressed the gathered priesthood before their Sacrament of confession.
In morning hours, after submitting their reports of the diocesan dean on life and the work of the parishes and church-school congregations in the Diocese of Middle Europe in the previous year, the clergy participated in the discussion on many issues regarding life and work of the parish priests in modern conditions.
On Friday morning, Serbian Patriarch served the Holy Liturgy of Presanctified gifts with the concelebration of local priests.
At 10 a.m. the working session of the Diocesan administration committee of the Diocese of Middle Europe began.
Source: Serbian Orthodox Church