Thessaloniki, July 24, 2013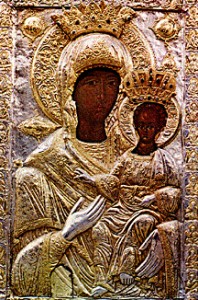 On July 22, 2013, the Hodegetria Icon of the Mother of God was returned to the Vatopedi Monastery from Xenophontos. In 1730, this icon mysteriously disappeared from Vatopedi. After a while the brethren learned that it had appeared in another Athonite Monastery—Xenophontos. The icon was returned to its owners but soon after that miraculously appeared again in Xenophontos. Then the Vatopedi Monks decided that such was the will of the Mother of God that Her icon should be kept in Xenophontos, reports Sedmitza.ru.
At the present time, the monks of Xenophontos have unanimously decided to give the revered icon back to Vatopedi. The procession of the brethren of Xenophontos headed by Abbot Alexios arrived at the Vatopedi. At the entrance to the Monastery they were met by Abbot Ephraim with the brethren and Abbot Gabriel of the Pantokrator Monastery. The icon was placed into the Monastery's Cathedral of Annunciation of the Mother of God.
Source: Pravoslavie.ru