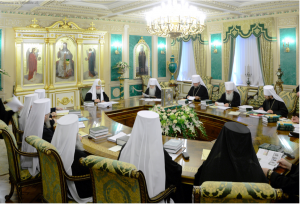 July 16, 2013 – The Holy Synod of the Russian Orthodox Church met for a regular session at the Synodal Hall of the official patriarchal and synodal residence in the St. Daniel Monastery, Moscow.
Along with the Holy Synod permanent members, the summer session is attended by Metropolitan Merkury of Rostov and Novocherkassk, Archbishop Mark of Berlin-Germany and Great Britain, Archbishop Dimitry of Vitebsk and Orsha, Archbishop Varfolomey of Rovno and Ostrog, and bishop Savvaty of Ulan-Ude and Buryatia.
Opening the session, the Primate of the Russian Orthodox Church said:
'Today we have a very large agenda. Among the questions we are to consider is a whole number of very important ones. I would like to mention at least two of them: the 1025th anniversary of the Baptism of Russia and the adoption of a Synodal Message devoted to this date and the adoption of a very important document concerning the external mission of the Russian Orthodox Church.
'Last year we adopted very many, I would say, fundamental documents laying foundation for the entire church work today. I will also inform you about a set of documents approved by the Supreme Church Council and submit them to you for your consideration.
'Besides, we are to make a decision about the establishment of a metropolia and the election of three hierarchs and to tackle a number of liturgical issues and current problems of the life of our Church'.
Source: DECR