July 29, 2013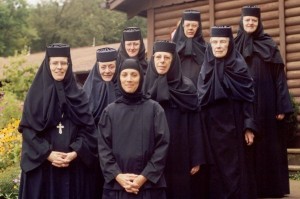 ELWOOD CITY, PA [OCA]
The nuns of the Orthodox Monastery of the Transfiguration here extend an invitation to all faithful to join them for their annual pilgrimage marking their patronal feastday August 5-6, 2013.
Among the hierarchs slated to attend are His Eminence, Archbishop Nathaniel; His Grace, Bishop Melchisedek; and His Grace, Bishop John of the Antiochian Orthodox Christian Archdiocese of North America.
The festal Vigil will begin at 6:00 p.m. on Monday, August 5, followed by supper at 9:00 p.m.  On Tuesday, August 6, the procession to the monastery chapel pavilion and the Divine Liturgy will begin at 9:30 a.m., followed by the blessing of Fruit.  A catered lunch will be served at noon, after which there is time to enjoy the monastery grounds and shop in the store and other specialty tables.  A presentation about the ministry of International Orthodox Christian Charities will be made by Lou Zagami at 2:00 p.m.  At 2:30 p.m., the blessing of the new bell tower foundation, followed by the celebration of the Sacrament of Holy Unction with anointing of all pilgrims, will be celebrated.  The day will conclude with the celebration of Vespers at 6:00 p.m.
The pilgrimage will provide an opportunity for the faithful to see the many improvements that have been made to the monastery facilities.  A flyer detailing progress made to date is available in PDF format.  Photos of recent improvements may be viewed on the OCA web site and Facebook page.

Additional information is available on the monastery's web site, via e-mail at omtsec@gmail.com, or by phone at 724-758-4002.