August 8, 2013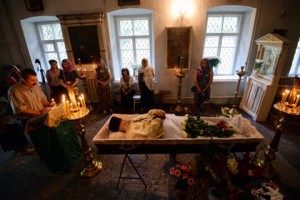 Pskov, August 8, Interfax – Hundreds of people have come to pay their last respects to Orthodox priest Pavel Adelgeim, who was stabbed to death on August 5.
The Pskov Region's Deputy Governor Viktor Ostrenko, Pskov Mayor Ivan Tsetsersky, chairman of the Russian Union of Theater Workers regional branch Yury Novokhizhin and film director Vadim Radun attended the funeral.
The priest was buried at the Mironositskoye cemetery of Pskov.
Moscow resident Sergey Pchelintsev, 27, was detained in Pskov on suspicion of killing Father Pavel.
The priest's dead body bearing stab wounds was found near the Konstantin and Yelena Church in Pskov at around 8:00 p.m. on August 5.
According to witnesses, the man, who attacked Father Pavel, screamed that the devil told him to kill the priest. The suspect stabbed himself in the chest during the arrest and was rushed to a hospital.
Murder charges have already been brought against the suspect.
Fr. Pavel, who turned 75 on August 1, became a priest during the Soviet era. In 1969 he was arrested for circulating self-published religious literature and in 1970 sentenced to three years in labor camps for "slander of the Soviet system." The priest lost his right leg in 1971 due to unrest in a labor facility and was released with a disability in 1972. Fr. Pavel became a member of the Pskov Diocese in 1976.
He harshly criticized the state of the Russian Orthodox Church and its leaders in recent years.
Source: Interfax-Religion