July 18, 2013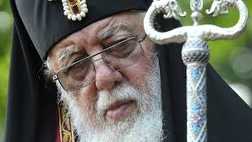 Catholicos-Patriarch of All Georgia Ilia II will visit Moscow, Kiev and Minsk from July 23 to 30 to attend the celebrations marking the 1025th anniversary of the Baptism of Russia. During this trip, Ilia II will meet with Patriarch Kirill of Moscow and All Russia and discuss issues of relations between the Georgian and Russian Churches, the status of the Abkhaz Orthodox Church and the problem of returning the remains of Georgian kings to Georgia. Vestnik Kavkaza asked Georgian experts to comment on the impending event.
Political scientist Iosif Tsikarishvili recalled, first of all, that the main concern of the Georgian Patriarch now is Georgia's relations with the "prodigal children" of Abkhazia and South Ossetia. "Of course, the influence of the Georgian Orthodox Church extends theoretically to these areas, but actually the presence of the Georgian Church in the regions of Abkhazia and South Ossetia is still not implemented. This is certainly a headache for the patriarch," the expert said.
The head of the Institute for Strategy Management, Peter Mamradze, highlighted that communication between the two patriarchs is very important for Georgia. "Since 2008, 80% of the population demand the restoration of good, neighbourly and friendly relations with the Russian state. Against this background, there are indications that the relationship between the peoples is not getting worse. More than a million Georgians live in Russia, that is, one in four of all Georgians is living in Russia. Moscow is the second city in the world in the number of Georgians after Tbilisi. At the moment each contact, each visit to Russia and other countries, is very important," he said.
The head of the Centre for Global Studies, Nana Devdariani, however, stressed that during the visit only the relationship between the two churches will be discussed, not the countries. "You know perfectly well that, under the constitution and in real-life in the current situation, our church and state are separated. The church never gets directly involved in political life, it is, shall we say, a spiritual, and social institution. It can only call for something, it can create a common background, but to solve some political questions, of course, the church cannot. The Patriarch of Georgia has never made any steps in this direction. This is not a political action that he has taken," she said, adding that relations between the spiritual and political leaders certainly create a favourable environment for the normalization of relations.
Source: Vestnik Kavkaza