April 12, 2013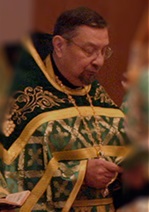 His Eminence, Archbishop Benjamin, Locum Tenens of the Diocese of Alaska, will preside at funeral services for Archpriest Paul Merculief, who fell asleep in the Lord at his home here on Friday, April 12, 2013.
The Funeral Service for a Priest will be celebrated at Saint Innocent Cathedral, Anchorage, AK on Tuesday, April 16, 2013 at 7:00 p.m.  The following morning, the Liturgy of the Presanctified Gifts and Litia will be celebrated at 9:00 a.m.  Interment will follow at the Angelus Cemetery.
Born in Alaska in 1939, Father Paul was a graduate of Saint Tikhon's Seminary, South Canaan, PA.  In April 1960 he married the former Elizabeth Svetsov.  He was ordained to the diaconate on May 28, 1967 and to the priesthood on August 22, 1971.
For years, Father Paul served numerous communities, including Anchorage, Kodiak, Nikolsky, Tyonek, Atka, Kenai, Ninilchuk, Unalaska, Saint Paul, Saint George, and elsewhere as rector or as an attached clergyman.  In addition to parish ministry, he served as Interim Dean of Saint Herman's Seminary, Kodiak, AK from August 1995 through March 1996.  He also served as Diocesan Chancellor from March 2003 through August 2004, as acting Dean of the Anchorage and Kenai Deaneries, and as Diocesan Treasurer.  In 1983, he was elevated to the dignity of Archpriest by the Holy Synod of Bishops, from whom he received a Synodal Gramota in 2002.  In December 2004, he was granted retirement and attached to Saint Innocent Cathedral.
He is survived by his wife, Matushka Elizabeth, and children.
May Father Paul's memory be eternal!
Source: OCA