April 17, 2013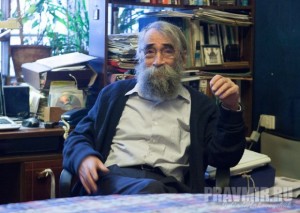 Professor Victor Markovich Zhivov of the Department of Slavic Languages and Literatures, UC Berkeley, and the Russian Language Institute of the Russian Academy of Sciences (Moscow) passed away on the morning of April 17, 2013, at Alta Bates Summit Medical Center in Berkeley, CA.
Born in Moscow on February 5, 1945, his father was Mark Semonovich Zhivov (1893-1962), a literary scholar and translator. He was a graduate of the Division of Theoretical and Applied Linguistics at the Philological Faculty of Moscow State University, where he studied the typological structure of languages and phonology, defending his candidate's dissertation in 1977. He later received his doctoral dissertation, also from Moscow State University, in 1992.
From the mid-1970s his primary academic interest lay in the study of Russian literary language in both its external and internal aspects, with special emphasis on the role of the Church Slavonic tradition on various stages of the growth of Russian literary language.
He began attending church in adolescence, owing in part to the influence of his older sister, later receiving baptism. Early in his career he translated several works into Russian for the publishing department of the Moscow Patriarchate, including Fr. John Meyendorff's Study of Gregory Palamas. He became close to Archpriest Alexander Men (1935-1990), whom he later remembered as an active pastor who combined love, kindness, and intellectual interests. He remained involved in church life after moving to Berkeley in 1995 and was engaged in the study of sin and salvation in Russian cultural history.
The author of over a dozen books and scores of articles, his book Language and Culture in Eighteenth Century Russia (Brighton, MA: Academic Studies Press, 2009) exists in English translation. Among his articles that have appeared in English are studies of the Mystagogia of St. Maximus the Confessor, church reform in the seventeenth century, and the handling of sin in eighteenth-century Russia. (For a full bibliography, see here.)
May his memory be eternal!
Compiled by Pravmir.com