October 24, 2013
SYOSSET, NY [OCA]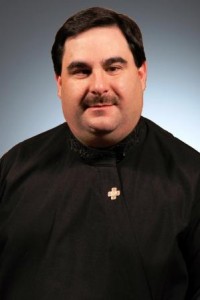 Subdeacon Gregory Sulich, 43, long-time Administrative Assistant to the Metropolitan and Chancellor, fell asleep in the Lord at the Geisinger Medical Center, Danville, PA, on Thursday afternoon, October 24, 2013.
He was born on October 9, 1970, in Elmira, NY, the son of Matushka Dorothy Kokinchak Sulich of South Canaan, PA and the late Archpriest Samuel Sulich.  He was a graduate of Western Wayne High School, South Canaan. He furthered his education in getting a Bachelor of Science degree from Marywood University, Scranton, PA, and a Master of Divinity Degree from Saint Tikhon's Seminary, South Canaan. He was employed for 19 years at the Chancery Office of the Orthodox Church in America.
His greatest joy in life was serving as Subdeacon and he was a lover of sports.
In addition to his mother, he is survived by aunts, uncles and cousins.
Visitation will be held at Saint Tikhon of Zadonsk Monastery Church, South Canaan, PA on Monday, October 28, from 2:00 to 4:00 and 6:00 to 8:00 p.m.  A Parastas will be celebrated at 7:00 p.m.  Funeral services will be held Tuesday, October 29, at 10:00 a.m. with His Beatitude, Metropolitan Tikhon and Abbot Sergius officiating. Interment will follow in the monastery cemetery.
In lieu of flowers, memorial gifts may be made in his memory to Saint Tikhon's Monastery or Seminary or the Orthodox Church in America.
May Subdeacon Gregory's memory be eternal!
Source: OCA