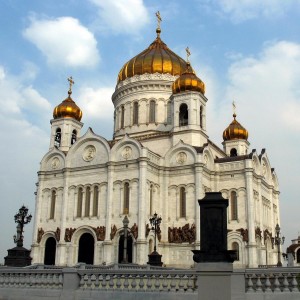 November 22, 2012 – The Inter-Council Presence of the Russian Orthodox Church has begun its 2nd plenum in the Church Councils Hall of the Church of Christ the Saviour. It is chaired by His Holiness Patriarch Kirill of Moscow and All Russia. It is attended by 143 people including clergy and laity of the Russian Orthodox Church.
The work was preceded by a prayer for the beginning of every good cause.
In the beginning of the first session, Patriarch Kirill made a report highlighting the main topics and tasks of the Inter-Council Presence's plenum. He also made some proposals concerning the decision-making procedure and presented an overall program and agenda of the plenum.
There will be 8 plenary session on November 22 and 23. The agenda includes discussions on the following draft documents:
Proposals for amendments and additions to the Statute of the Russian Orthodox Church
Procedure for the election of the Patriarch of Moscow and All Russia
 On the Church's stand with regard to new technologies for the identification of a person
 On the Church's position concerning juvenile justice
 The ROC' Basic Ecological Concept
 The ROC's work for the rehabilitation of drug-addicts
Source:  DECR Communication Service