June 30, 2013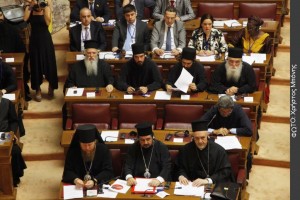 The Inter-Parliamentary Assembly of Orthodoxy held its 20th General Assembly from June 27-29, 2013, in Athens to discuss Parliamentary Democracy-Christianity-Orthodoxy: Values and Meanings.
The Assembly was attended by parliamentary delegations from member states including Albania, Armenia, Belarus, Bulgaria, Cyprus, Czechia, Estonia, Finland, Georgia, Greece, Kazakhstan, Latvia, Lithuania, Moldova, Montenegro, Poland, Romania, Russia, Serbia, Slovakia, Ukraine, as well as groups of deputies from Australia, USA and a number of countries in Asia and Africa.
The Presidium of the conference included S. Popov, president of the IOPA and chairman of the State Duma Committee for procedure, A. Nerantzis, IOPA general secretary and Greek M.P., Prof. V. Alekseyev, president of the International Foundation of the Unity of Orthodox Nations, and Dr. K. Migdalis, both IOPA political advisers, as well as M.Ps from Cyprus, Belarus, Latvia, Serbia and other countries.
The Russian Orthodox Church was represented by Bishop Savva of Voskresensk, abbot of the New Monastery of Our Saviour, who read out a message of greetings from His Holiness Patriarch Kirill of Moscow and All Russia to the participants in the forum.
The Duma vice-speaker S. Zheleznyak brought a message of greetings from the State Duma chairman S. Naryshkin.
Prof. M. Begzos, dean of the University of Athens department of theology, Dr. K. Migdalis and Protopresbyter Avgustidis, docent of the University of Athens department of theology delivered addresses on the main theme of the conference.
Mr. A. Alekseyev addressed the meeting on Values and Meanings of the Modern Time: The Christian Dimension.
The conference considered a number of issues, such as Orthodoxy and democracy, Christianity and politics in tomorrow's world.
During the closing day on June 29, an official ceremony of signing a jubilee declaration took place at the Greek Senate's hall in the presence of Hellenic Parliament Speaker E. Meimarakis.
The Inter-parliamentary Assembly of Orthodox was founded at the initiative of the Hellenic Parliament. S. Popov has been its president since 2004.
Source: DECR