May 29, 2013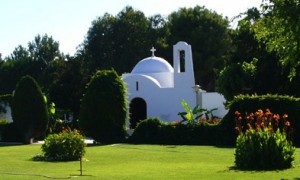 NEW YORK – The Archdiocese Office of Ionian Village has established a cooperative one-day program, "Repower Greece Day at Ionian Village," an event that will encourage Ionian Village participants to closely examine their experiences of Greece, cultivate a high level of appreciation of their Greek heritage, and to become ambassadors for the country's image abroad.
Every summer, Ionian Village provides campers with a transformative experience of Greece, Hellenism and Orthodoxy through a powerful and meaningful travel program. Through close encounters with Greece, her people, and the Greek Orthodox faith, Ionian Village has fostered a love and appreciation of Greece and Hellenism in its participants for over forty years.
Assisting the Ionian Village team in this visionary program will be Repower Greece, a public diplomacy campaign whose mission is to challenge negative perceptions of Greece on an international scale, replacing them with stories of success and positive experiences in efforts to restore Greece's worldview.
Ionian Village, together with Repower Greece, will build upon campers' transformative experiences of Greece to spark constructive dialogue and heighten awareness among participants of their ability to serve as ambassadors for the country, spreading the positive message of growth and beauty that exemplify Greece.
"Repower Greece Day at Ionian Village" will infuse aspects of the Repower Greece initiative into traditional Ionian Village daily activities. Preliminary ideas include visual and tangible projects that will creatively allow the participating teenagers to confront their individual thoughts and feelings about Greece. Ionian Village Staff Members will lead these activities, joined by members of the Repower Greece team who will both participate in activities and engage in open forum style discussions with campers throughout the day.
This programmatic addition to the Ionian Village repertoire will allow Repower Greece to introduce its worthy initiative to a group of more than 350 Greek American young people who will return to America ready to help redefine Greece's image in the world. As well, Ionian Village campers will benefit from the challenge to understand and evaluate their experiences at an intellectual level.
Ionian Village is the unique summer camping program of the Archdiocese located in Peloponnesos, Greece. In two 20-day sessions each summer, Ionian Village campers travel across Greece with their peers to sites of religious and cultural importance. Greek Orthodox teenagers who have completed grades 8 through 12 are eligible for this experience.
For more information or to register for the Ionian Village 2013 camping season, visit www.ionianvillage.org.
Repower Greece is coordinated by the Institute for Regional Dialogue & Strategy and FORESIGHT Communications in Athens and Repower Greece Inc., a non-profit organization in New York. For more information on Repower Greece, visit www.repowergreece.com.
Source: GOARCH