August 2, 2013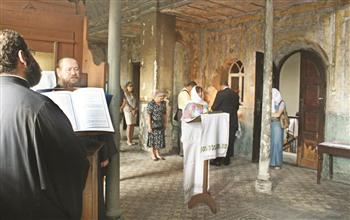 Aug 2 (Reuters) – About 25 Russian Orthodox celebrated a divine liturgy on Friday for the first time in four decades at their rooftop church they fear may be demolished to make way for a tourism project.
A choir chanted hymns and women wearing scarves bowed their heads at the crumbling 134-year-old St Elijah Church as they marked the prophet's name day according to the Julian calendar.
Istanbul's tiny White Russian community, whose families fled here in the 1920s after losing to the Bolsheviks in the Russian Civil War, worries that St. Elijah and its two sister churches could fall victim to the country's frenetic building boom.
Dubbed Galataport, the redevelopment of Karakoy, a historic district on the European side of the Bosphorus where St. Elijah is located, envisages a cruise-liner port, hotels and a mall.
"Today's service is a first step to attaining the old spirit of the church," said Kazmir Pamir, an ethnic Russian working to save St. Elijah. "Perhaps now we can a hold baptism or a wedding. It is alive again, it has taken its first breath."
Galataport is on a long list of infrastructure projects in Europe's fastest-growing city.
In late May, opposition to government plans to raze a small park to build a replica barracks that could house a mall flared into Turkey's fiercest anti-government protests in decades.
Critics say the building projects, which include bridges, undersea tunnels, an airport, hundreds of mosques and dozens of housing complexes, threaten historic sites and the environment in one of the world's most popular tourist destinations.
The government argues it is meeting the needs of a rapidly expanding population and economy.
St. Elijah is at risk because it was disused as a church, is listed as a commercial building in city records and is not among the city's protected sites, Pamir said.
Friday's liturgy, which was presided over by a priest from the Greek Orthodox Patriarchate, sought to re-sanctify the space as it is far more difficult to demolish a church, he said.
It also marked a bright spot for cooperation between the Russian Church, the largest of the Orthodox denominations, and the Istanbul-based Patriarchate, considered the spiritual leader of the worlds's 300 million Orthodox faithful despite his tiny flock of just 3,000 adherents in Turkey.
The two Churches have jostled for influence for years. Pamir said the Moscow Church recognises Ecumenical Patriarch Bartholomew's authority over the Karakoy chapels.
RUINED FRESCOES
St. Elijah's frescoes and icons have been ravaged by damp and neglect, save for an intact image of Christ above the altar.
The three chapels belong to the lone Russian Orthodox monastery on Greece's Mount Athos. Monks there recently gave power-of-attorney to a Turkish firm, which has not said what it plans for the buildings as real estate prices soar, Pamir said.
Today, just 100,000 Christians and 20,000 Jews dwell in Turkey, a nation of 76 million Muslims.
Turkey's Dogus Holding, which has interests in banking, media and construction, won a government tender in May to develop Galataport with a top bid of $702 million.
It did not respond to e-mailed questions on whether the churches would be directly or indirectly affected by Galataport.
"This place is both familiar and strange at the same time," Mihail Basleyef, 55, returning to St. Elijah for the first time since his baptism, said. "I feel blessed to be here so I can keep the memory of it alive, even if one day it will be gone." (Editing by Michael Roddy)
Source: Reuters