I remind you that today the Holy Church celebrates the memory of the Righteous Job the Long-Suffering, whom we always remember as the one possessing patience. But, besides patience, there is something else very important here.
Job was a happy man, living as if in a continual feast. Then this whole life of his collapsed; everything vanished like smoke. That which he had feared came to pass: poverty, loneliness, and sickness; death was already knocking at his door. Then he began to inquire of God: "What for? Why?"
His friends came to comfort him. One said that God was punishing him for his sins; another said that the ways of God are unknowable to us. But neither of them was able to comfort him. No single person can comfort another when the latter has fallen into the pit of despair.
Job called upon God, and the Lord revealed Himself unto him. He did not offer him an account or give him any explanation. He simply touched him, and this saved him. He arose and lived.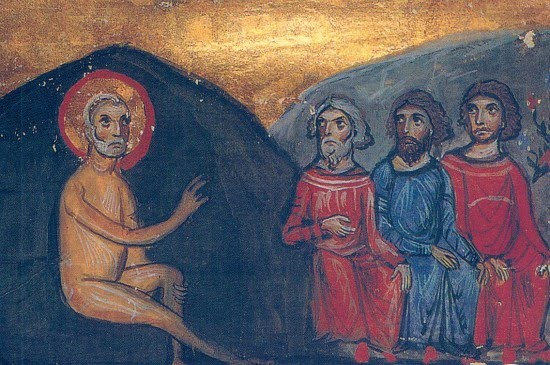 Our life of faith in Christ is just the same: when everything that is human and worldly deceives us; when all our hopes and calculations collapse; when what draws our hearts and seems beautiful to us crumbles – it is precisely then that, if we continue to call upon the Lord, He will come and accomplish everything.
This book in Holy Scripture should be read often. In it is much that is bitter, and much that is wise, about human life. We get up in the morning, go about our business, cook, eat, sleep, and get up again… So does each one of our days pass. We forget that human life is suspended on a fine thread that can snap at any moment. Job experienced all this; he says in this book that human life is like a dream, like a shadow. And it was in this experience of the truth of life, in this bitter truth, that the Lord appeared to him.
It is no wonder that the Holy Fathers taught us the memory of death. One should remember death not at all in order to become gloomy, sad, and depressed. The memory of death, on the contrary, pulls us out of the swamp into which we have immersed ourselves through our endless, vain, and petty deeds, and places us before the face of Truth and Eternity. Therefore, the memory of death is our great watchman. In Holy Scripture there is so much wisdom that can never be exhausted. And this truth is one of the most important.
Where man is powerless, the Lord is all-powerful. Where man needs help in the most desperate circumstances, an encounter with the Lord resolves everything, covers everything, and pours a strength into man that no one on earth can give.
Translated from the Russian.