John Tavener, a British composer known for his meditative, sometimes passionate sacred works and colourfully scored orchestral pieces – including the popular cello concerto The Protecting Veil, and the haunting Song for Athene, which was performed at the funeral of Diana, Princess of Wales – died Tuesday at his home in Child Okeford, in southern England. He was 69.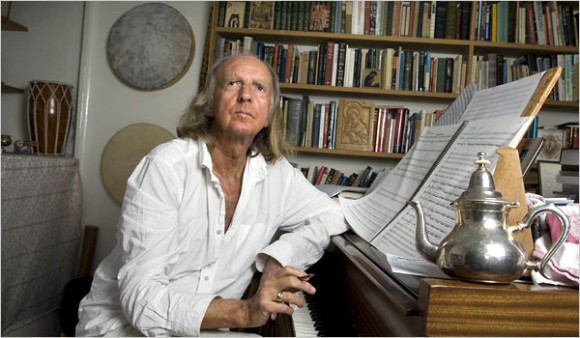 James Rushton, the managing director of Chester Music, Mr. Tavener's publisher, announced the death. A spokeswoman for the company said that the cause had not been determined. He was, however, known to have serious health problems.
Mr. Tavener was a quiet man who cut an otherworldly figure: he was 6-foot-6 and rail thin, with light hair that he wore shoulder length even as his hairline receded. His manner – focused and unambiguous when speaking about his music, and vaguely mystical if equally intense when speaking about his other passion, religion – mirrored his invitingly tonal compositional style.
But his opinions, though gently expressed, often had a sharp edge. After he became a follower of Russian Orthodox Christianity, he spoke critically of Western Christian beliefs, and of the sacred music they yielded, including the works of Bach. In recent years this view softened: in 2007, he told a New York Times interviewer that he had reconsidered some of his beliefs and had returned to playing Bach on the organ.
"I reached a point where everything I wrote was terribly austere and hidebound by the tonal system of the Orthodox Church," he said, "and I felt the need, in my music at least, to become more universalist: to take in other colours, other languages."
It was in another, more secular life, and with the help of two of the Beatles, John Lennon and Ringo Starr, that Mr. Tavener came to prominence. Having studied at the Highgate School and the Royal Academy of Music in London, where he was born on Jan. 28, 1944, Tavener was working as a church organist, teaching and conducting by the late 1960s. But he was also working to get his own music heard, and a chance meeting with Mr. Lennon and Yoko Ono at a London party in 1968 led to a contract with Apple Records, the label the Beatles had just started.
Mr. Lennon was drawn to Mr. Tavener's music after hearing a tape of his opera, Notre Dame des Fleurs, based on the Jean Genet novel, but he soon lost interest in the project. Mr. Starr took up Mr. Tavener's cause, and Apple released two of his large-scale works: The Whale (1968), based on the story of Jonah, and Celtic Requiem (1969).
Mr. Tavener's interest in religion at first slowed him down. He converted to Russian Orthodox Christianity in 1977, and at the request of an archbishop, he composed a large liturgical work that led him to rethink his style.
"It was very clever of him," Tavener said of the archbishop in a 2000 interview with The Times, "because first of all, it helped me get to know the liturgy really well. But it brought me up against a real compositional crisis because the congregation came up and said, 'You don't know anything about the sacred tone systems,' and 'This is just your own fabricated music.' And I began thinking that maybe they're right, maybe everything I'd done up till then was a complete waste of time."
Tavener learned the church's traditional chants, but much more as well. "I stopped composing," he said, "and I listened to Indian music, Persian music, all music from the Middle East. I listened to American Indian music. I listened to any music that was based on traditional ideas. That's when I started to question what on earth happened to this Western civilization and why the sacred seems to have been pushed out gradually by the domination of the ego."
Eventually he found a style of his own, and by the late eighties – the first performance of The Protecting Veil, by the cellist Steven Isserlis, in 1989, was a watershed – he was again composing prolifically, not only for the church but for concert halls as well. He said, however, that even his instrumental works had a mystical subtext.
"It isn't important for listeners to know what these subtexts are," he said in 2000. "Only I have to know. I have to have in mind what the text would be if the work had one. But people can make of it what they want. When 'The Protecting Veil' had its premiere, one letter that touched me the most was from a young girl who asked if in that piece I was protecting unfashionable values like truth and beauty. Well, the protecting veil is associated with a feast in the Orthodox Church, but if people hear something else, that's fine."
Among Tavener's numerous health problems was Marfan syndrome, a congenital disorder of the connective tissue that limited his ability to travel long distances.
"It attacks the main valve to the heart, it attacks the eyes, it attacks the mind – there isn't much it doesn't attack," he told a Times interviewer during one of his rare visits to the United States. "And the big danger of Marfan is that you can suffer a rupture at any time, and you go quickly. So I suppose I live with the thought of death very much in front of me, and this may well have a bearing on the way I think generally."
In 1991 Tavener married Maryanna Schaefer, who had helped him come through his surgery for a leaking aortic valve that year. She survives him, as do their daughters, Theodora and Sofia, and their son, Orlando. Information on other survivors was not immediately available.
In 2000, Tavener was knighted for his contributions to British music.
"It has taken me years to really understand what tradition is," Tavener once said, "and to explain it to anyone else is difficult. People call it different things. In Islam, the Sufis call it 'the eye of the heart.' St. Augustine defined it as 'the intellective organ of the heart.' "It's a different way of thinking about writing music. I used to fret over manuscripts and think, 'What am I going to do?' Now it's a question of going very quiet, emptying my mind of preconceived ideas and seeing what happens. It's not so much a question of finding my voice as finding the voice."
Source: The Globe and Mail