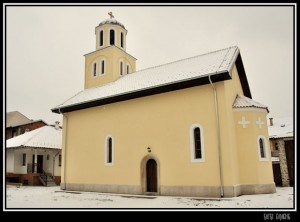 January 6, 2013
ĐAKOVICA — A group of Kosovo Albanians have prevented a group of Orthodox believers from visiting the Church of Assumption of Blessed Virgin Mary in Đakovica.
RTS has reported that the Albanians were protesting against the visit of displaced Serbs who used to live in the town.
Ethnic Albanian Self-Determination Movement activists and Voice of Mothers organization members gathered in front of the entrance to the church on Christmas Eve and did not allow Serbs to go in.
Orthodox nuns did not even go out in the yard on Sunday.
RTS has reported that around 40 Serbs managed to bring the Yule log into the church despite the protest and then safely leave the town in a bus.
Kosovo police arrested two protesters and pushed several hundreds of Albanians 20 meters away from the church so Serbs could briefly enter the church.
The Serbian Orthodox Church (SPC) and its believers celebrate Christmas on January 7, in accordance with the Julian calendar.
Source: B92