Chairman of the Senate of the Parliament of the Republic of Kazakhstan, Head of the Secretariat of the Congress of Leaders of World and Traditional Religions Kairat Mami met with Metropolitan Hilarion of Volokolamsk, chairman of the Department for External Church Relations of the Russian Orthodox Church.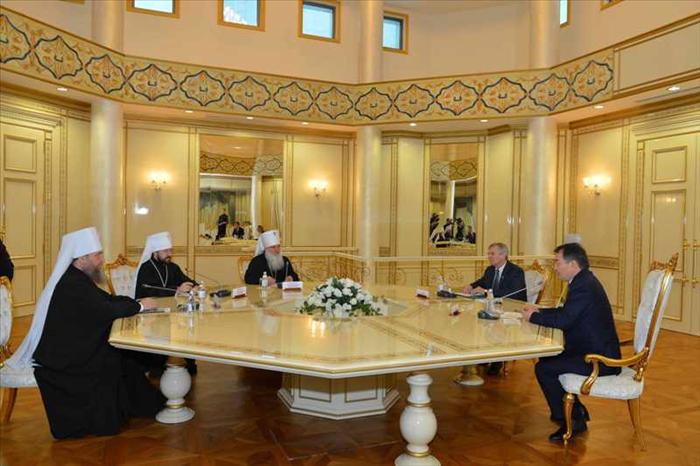 Orthodoxy, having the second largest number of followers of traditional religions in Kazakhstan, plays a major role in strengthening interfaith harmony, Speaker of the Senate said. Russian Orthodox Church from the very beginning supported the initiative of President Nursultan Nazarbayev on convocation of the Congress of Leaders of World and Traditional Religions. For 10 years, the Church has been significantly contributing to the implementation of this noble idea. The visit of the Patriarch of Moscow and All Russia Kirill to Kazakhstan in May last year, and his participation in the Fourth Congress of Leaders of World and Traditional Religions were of high significance.
In the context of the 10th anniversary of the Congress, the sides discussed prospects of development of the forum.
Metropolitan Hilarion noted that the coexistence of different religious faiths is one of the main issues in the current international agenda. He added that Russian Orthodox Church highly appreciated the position of the President of Kazakhstan Nursultan Nazarbayev, who put peaceful coexistence and mutual understanding as a priority of his policy. Kazakhstan is a prime example, which should be followed by many countries, Metropolitan said.
The Metropolitan of Astana and Kazakhstan Alexander and Metropolitan of Central Asia Vikenty also participated in the meeting.
Source: Senate of Kazakhstan