In greetings to Youhanna X Yazigi, Michel Sleiman talks about the problems of Christians in Iraq, Syria, Palestine and Israel. An appeal to Arab leaders to defend the Christian minorities, as bearers of civilization and development.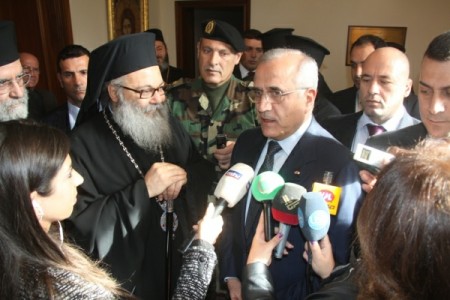 Beirut (AsiaNews) – Meeting the new Greek-Orthodox patriarch of Antioch, Youhanna X Yazigi, Lebanese President Michel Sleiman wished him "every success" in his service to the Church and said he was willing to work together "to protect the Christians of the East and ensure them a dignified and perennial life". Sleiman was referring not only to Christians of Syria or Iraq, but also to Palestinians.
The new patriarch is still at Balamand (Lebanon), where two days ago he was elected successor of Ignatius IV Hazim and where he has been visited by many personalities.
Following his meeting with the Patriarch, Sleiman told reporters: "We wish every success to His Beatitude because his mission is difficult, especially in the difficult circumstances of the present, marked by oppression of Christians in the East." He added: "I speak not only of Iraq and Syria, but most of all of Palestine, because the Orthodox community and the Christian communities are suffering unfair treatment and colonization [through settlements] … We have to explain our efforts to all so as to protect the Christians of the East and ensure them a dignified and perennial life. It also requie the responsibility of Arab leaders and the international community, which should remain close to the minorities in their countries. "
"Arab leaders – he continued – must defend minorities, regardless of their community, because these minorities have been the basis for the development of these countries. In the pluralistic world in which we live in today, collaboration with these groups is essential, not due to the size of their population, but for the civilization of which they are carriers. "
Source: AsiaNews.it