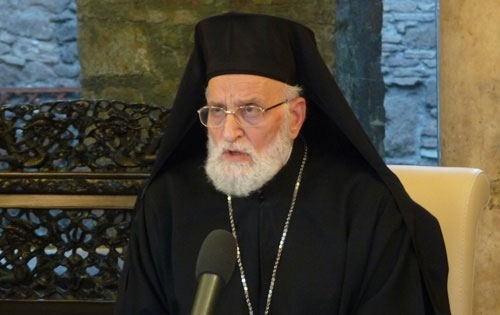 Expressing gratitude to Pope Francis for his support for Syrian Christians, the head of the Melkite Greek Catholic Church told the Pope that "despite the woes and the quite tragic situation that we have been experiencing for nearly three years now, we want to stay and help our faithful to stay."
"You called upon us not to allow the flame of hope to be extinguished in our hearts," said Patriarch Grégoire III (Loutfi) Laham in a recent address to Pope Francis in Rome. "We are resolved to be martyrs in this land, blood martyrs, like some of our faithful, including three men from Ma'alula: Michael Taalab, Antonios Taalab and Sarkis Zakhem," who were slain in September.
"Most Holy Father, they are real martyrs, who were ordered to recant and proudly refused," the Patriarch added. "Three others, however, gave in and were obliged to profess Islam, but later returned to their ancestral faith."
The Patriarch, whose Eastern Catholic church is in full communion with the Holy See, added:
Like Blessed Pope John Paul II, who brought down the Berlin Wall through his prayer and bold interventions, you wrought a miracle, Holy Father, by summoning Christians and the whole world to fast and pray on 7 September last. So you brought about a turning point in the Syrian crisis and even in the vision of global politics. The world changed after 7 September, 2013!

We sense that you are preparing initiatives that are going to change the vision of the world, especially in the Middle East, and from that throughout the whole world.

Yes! We expect an initiative aimed at resolving the Israeli-Palestinian conflict and establishing a just, lasting and comprehensive peace in the Middle East, starting from the Holy Land and Jerusalem, that City of Peace which in our mother. You are going to bring down the wall which unfortunately separates not only Jews and Palestinians, but also Arab countries from one another and which threatens Muslim-Christian dialogue and living together, and human values.

Solving that conflict, which has lasted for 65 years, means solving 50% of the Middle East's problems and guaranteeing the Christian presence, a very significant presence for communion and witness.
Source: CatholicCulture.org