July 31, 2013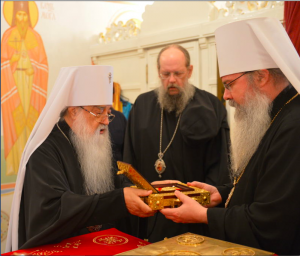 July 30, 2013 – Metropolitan Filaret of Minsk and Slutsk, Patriarchal Exarch for All Belarus, met with His Beatitude Tikhon, Metropolitan of All America and Canada, at the Minsk diocesan administration.
His Beatitude Tikhon and his delegation visited the diocesan administration's Chapel of All Byelorussian Saints.
The Patriarchal Exarch and His Beatitude Tikhon continued their meeting at the administration's summer garden and Fireplace Hall.
His Beatitude thanked His Eminence Filaret for the warm welcome and shared his impressions of the Patriarchal liturgy celebrated in the Old City in Minsk and the festive concert held at the Memorial Church of All Saints.
Metropolitan Filaret expressed joy over the meeting, noting that it testified to the unity of the world Orthodoxy and thanked the Primate of the Orthodox Church in America for his visit to Belarus.
The two hierarchs considered the development of contacts between the theological schools of the Byelorussian Exarchate and the Orthodox Church in America.
Metropolitan Filaret presented His Beatitude Tikhon with a reliquary containing a part of the relics of St. Euphrosynia of Polotsk. Metropolitan Tikhon gave his host an icon of St. Tikhon, Patriarch of Moscow and All Russia, the Minsk diocesan press service reports.
Source: DECR