June 28, 2013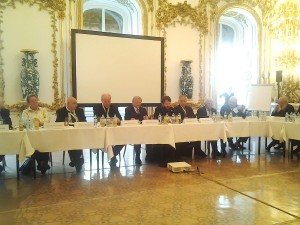 On June 28, 2013, Metropolitan Hilarion of Volokolamsk, head of the Moscow Patriarchate's department for external church relations, with the blessing of His Holiness Patriarch of Moscow and All Russia, attended the opening of a conference on Multiple Traditions – Multiple Ways of Development – Multiple Reflections of Today organized by the Dialogue Europe-Russia public forum in cooperation with the Catholic Church in Austria. The event is held at the Liechtenstein Palace in Vienna's historical center.
The participants in the forum, including representatives of the Russian Orthodox Church, Roman Catholic Church in Austria, scholars, public leaders and journalists, were welcomed on behalf of the Dialogue-Europe-Russia by Austria's ex-chancellor Wolfgang Schuessel, who expressed hope that the forthcoming discussion would prove fruitful. The gathering was also addressed by Maria Kothbauer von Liechtenstein representing the Principality of Liechtenstein ruling family, the owner of the palace.
Metropolitan Hilarion addressed the gathering with words of greetings and then gave a talk on Church, Society and State in Russia: Ways of Cooperation. Among the key-speakers were also Cardinal Christoph Schoenborh, Archbishop of Vienna, and Prof. Peter Ludwig Berger, University of Boston, USA.
The conference will work for two days in issue sections.
Source: DECR