July 1, 2013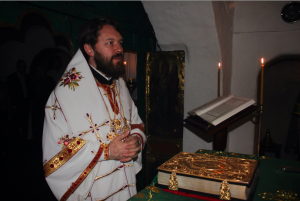 On Sunday, 30 June 2013, Metropolitan Hilarion of Volokolamsk, chairman of the Moscow Patriarchate's Department for External Church Relations, currently on a working visit to Kiev with the blessing of His Holiness Patriarch Kirill of Moscow and All Russia, celebrated the Divine Liturgy at the Church of St. Theodosius of the Caves in the Far Caves of the Kievan Laura of the Caves.
The students' choir of the Kievan Theological Academy and Seminary sang at the service.
After the dismissal, Metropolitan Hilarion addressed the worshippers with archpastoral homily, saying in particular:
"On the Sunday of All Saints, we recall people who have pleased God, people whom we know by their names which are entered into church calendar, and people whose names will remain unknown. We recall those who have pleased God and whom God has glorified.
In the caves on the Kievan hills, where monasticism of Holy Russia has come into being, we recall with a special feeling Ss Anthony, Theodosius and other saints buried here. Their intercession spreads all over all corners of Holy Russia.
We pray to all saints who shone forth in our land and elsewhere in different times and under different circumstances, when the Church lived in prosperity and when the Church was persecuted. We pray to them for help in our life so that we can come closer to the ideal of Christian sanctity, so that we can please God by our deeds through love to our neighbours, so that our life on the earth should be a preparation to the Kingdom of God.'
That same day Metropolitan Hilarion departed for Moscow.
Source: DECR