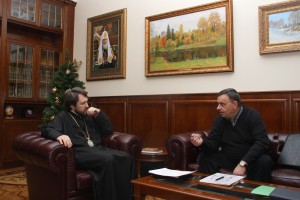 January 11, 2013
On 10 January 2013, Metropolitan Hilarion of Volokolamsk, head of the Moscow Patriarchate's Department for External Church Relations (DECR), met with Mr. Andrei Kristov, chairman of the Balkan Society of Mt. Athos.
They were joined in the meeting, which took place at the DECR premises, by archpriest Igor Yakimchuk, DECR secretary for inter-Christian relations. Discussed was a wide range of questions related to cooperation of the Russian Orthodox Church with the Balkan Society and with the Holy Mount Athos.
The Balkan Society of Mt. Athos popularizes history, spiritual and cultural heritage of Mt. Athos in Bulgaria and in other countries of the Orthodox tradition, organizes pilgrimages of young people from these countries to the Holy Mountain and implements projects of material support to the Athonite monasteries.
Source: DECR