June 11, 2013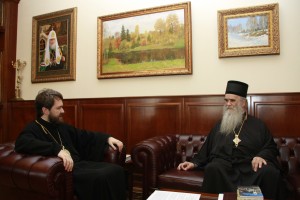 On June 11, 2013, Metropolitan Hilarion of Volokolamsk, head of the Moscow Patriarchate's department for external church relations, met with Metropolitan Amfilohije of Montenegro and the Coastlands, at the DECR.
Participating in their talk were also Archpriest Igor Yakimchuk, DECR secretary for inter-Orthodox relations, and Prof. V. Milovanovic, chief architect of St. Sava's in Belgrade.
They discussed the ways to adorn St. Sava's and other matters concerning relations between the Russian and Serbian Orthodox Churches.
Source: DECR Communication Service