On 20 February 2013, Metropolitan Hilarion of Volokolamsk, chairman of the Moscow Patriarchate's Department for External Church Relations, met with Erlan Idrisov, Minister of Foreign Affairs of the Republic of Kazakhstan. They were joined in the meeting by Metropolitan Alexander of Astana and Kazakhstan and Metropolitan Vikentiy of Tashkent and Central Asia.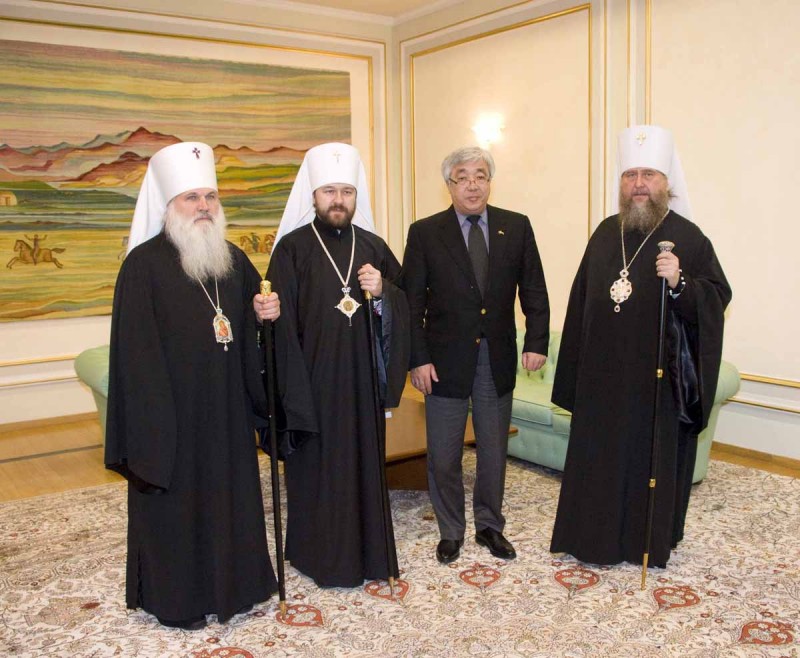 While welcoming the guests, Minister Idrisov noted a special role the Russian Orthodox Church plays in relations among countries within her canonical borders, for instance in strategic partnership of the Russian Federation and the Republic of Kazakhstan. He told the guests about major principles of Kazakhstan's foreign policy based on the openness and transparency in cooperation with partners.
Metropolitan Hilarion paid attention to the problems facing Kazakhstan and other countries for which the Moscow Patriarchate bears canonical responsibility, such as the challenge of religious extremism coming largely from the countries on the Arabian peninsula and the challenge of extreme liberalism that erodes tradition values on which our society are based.
Also discussed were the situation in the Middle East and North Africa where religious minorities are subject to a large-scale persecution, and a special role of the Russian language officially recognized as a language of interethnic communication in the Republic of Kazakhstan. Minister Idrisov assured the guests that this role will be retained.
Source: DECR