September 25, 2013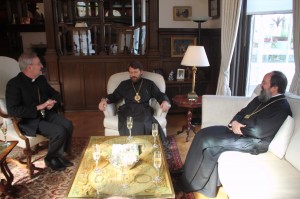 On September 24, 2013, during his working visit to London, Metropolitan Hilarion of Volokolamsk paid a visit to the Apostolic Nuncio to Great Britain, Archbishop Antonio Mennini, who represented the Holy See in Moscow till 2010. They had a warm talk on numerous issues of concern to both the Russian Orthodox Church and the Roman Catholic Church.
The talk concerned the progress of the Orthodox-Catholic dialogue, the state of bilateral relations and existing difficulties, and problems of inter-Christian dialogue at the present stage. It was noted that cooperation between the Russian Orthodox Church and the Roman Catholic Church in the field of education and students' exchange was one of the promising areas in the development of Orthodox-Catholic relations.
They discussed in particular the crisis situation in Syria and exchanged views on the Syria problem. They informed each others about the initiatives made by their Churches to help reach a peaceful settlement in Syria.
They were joined in their talk by Archbishop Elisey of Sourozh, Hieromonk Ioann (Kopeikin), assistant to the DECR chairman, the Rev. Alexander Vasiutin, a DECR staff member, and Protodeacon Dimitry Nedostupenko, the Russian Cathedral of the Assumption in London.
Source: DECR