On 9 November 2013, Metropolitan Hilarion of Volokolamsk, chairman of the Moscow Patriarchate's Department for External Church Relations (DECR), arrived in Lebanon with the blessing of His Holiness Patriarch Kirill of Moscow and All Russia to take part in the celebration of the 25th anniversary of consecration of Archbishop Nifon of Philippopolis, representative of the Patriarch of Antioch and all the East to the Patriarch of Moscow and All Russia.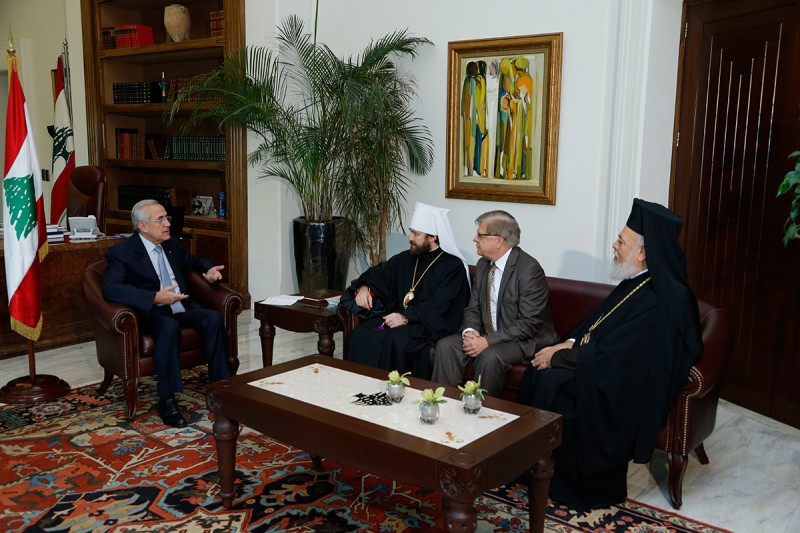 Metropolitan Hilarion is accompanied by archpriest Igor Yakimchuk, DECR secretary for inter-Orthodox relations, and deacon Alexander Karzan, assistant to the DECR chairman.
The DECR chairman met with H.E. Michel Suleiman, President of the Lebanese Republic, at his residence. Attending the meeting were Archbishop Nifon, Ambassador Extraordinary and Plenipotentiary of the Russian Federation to the Lebanese Republic, Alexander Zasypkin, and archpriest Igor Yakimchuk.
Metropolitan Hilarion conveyed greeting from His Holiness Patriarch Kirill to the President of Lebanon and told him about the efforts made by the Russian Orthodox Church for the protection of Christians living in the Middle East, in Syria in particular. DECR chairman believes that an experience of accord and peaceful coexistence of different ethnic and religious communities in Lebanon could be used in other countries of the region.
President Suleiman highly appreciated the position of Russia and of the Russian Orthodox Church on the situation in Syria and shared his vision of the situation in this country and of the means for its settlement.
Source: DECR