March 11, 2013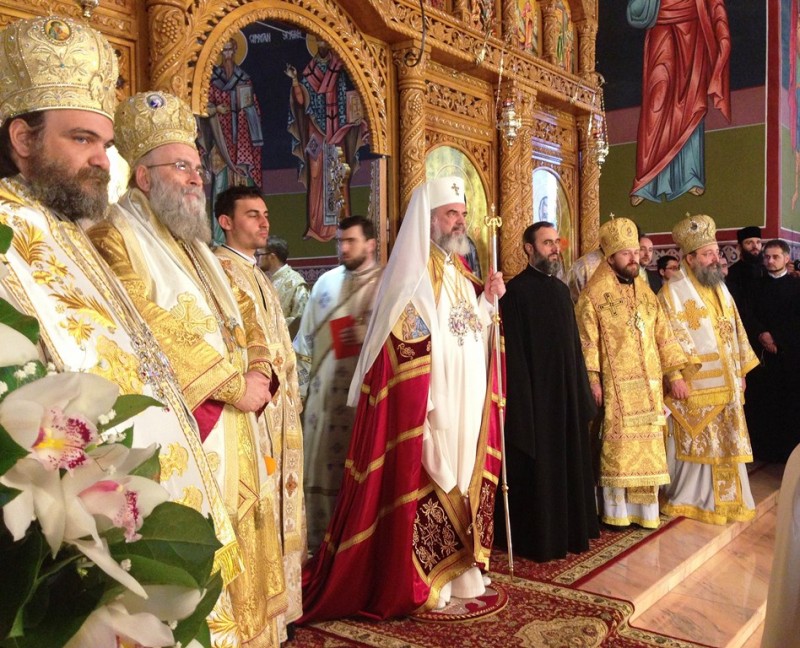 On 9 March 2013, Metropolitan Hilarion of Volokolamsk, chairman of the Moscow Patriarchate's Department for External Church Relations (DECR), arrived in Romania with the blessing of His Holiness Patriarch Kirill of Moscow and All Russia to take part in the installment of His Eminence Ciprian, the newly elected Archbishop of Buzǎu and Vrancea. Archbishop Ciprian used to be a vicar of His Beatitude Patriarch Daniel of Romania in charge of foreign relations of the Romanian Orthodox Church. On 28 February 2013, he was elected to the See of Buzǎu, an ancient see in the Romanian Orthodox Church that became vacant on January 7 after the demise of Archbishop Epifanie (Norocel).
Accompanying the DECR chairman in his visit to Romania are archpriest Igor Yakimchuk, DECR secretary for inter-Orthodox relations, and hierodeacon Ioann (Kopeikin), assistant to the DECR chairman.
On Sunday, March 10, Metropolitan Hilarion and his suite took part in the Divine Liturgy celebrated at the Cathedral of the Ascension in Buzǎu by His Beatitude Patriarch Daniel of Romania together with the bishops of the Romanian Orthodox Church and representatives of the Local Orthodox Churches.
Archbishop Ciprian was installed for the See of Buzǎu after the liturgy.
The participants attended the reception during which Metropolitan Hilarion congratulated Archbishop Ciprian on the new stage in his service to the Church and presented him a bishop's staff made at the 'Sofrino' Artistic Production Enterprise of the Russian Orthodox Church.
Source: DECR