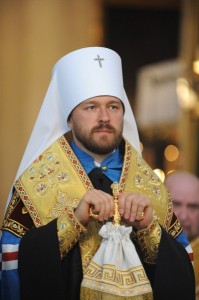 In the evening of 15 October 2012, Metropolitan Hilarion of Volokolamsk, chairman of the Moscow Patriarchate's Department for External Church Relations (DECR), arrived in Rome for an official visit. He was met at the Champion airport by H.E. Nikolai Sadchikov, Ambassador Extraordinary and Plenipotentiary of the Russian Federation to the Holy See, and Rev. Milan Žust of the Pontifical Council for Promoting Christian Unity. His Eminence Hilarion is accompanied by deacon Alexei Dikarev, a staff member of the DECR secretariat for inter- Christian relations; and Mr. Leonid Sevastianov, executive director of the St. Gregory the Theologian Foundation.
Upon the blessing of His Holiness Patriarch Kirill of Moscow and Al Russia, Metropolitan Hilarion will attend the XIII World Synod of Bishops of the Roman Catholic Church and address the participants.
The present Synod of Bishops is timed to the 50th anniversary of the opening of the Second Vatican Council and is dedicated to a theme of the new evangelization – the sermon of Christ in the secular world. Attending the Synod are 262 Catholic hierarchs and 140 experts and guests from the non-Catholic Churches and communities. Attending the Synod as observers were Patriarch Bartholomew of Constantinople, Metropolitan Nifon of Targoviste (Romanian Orthodox Church), Metropolitan Irinej of Bačka (Serbian Orthodox Church), and Archbishop Rowan Williams of Canterbury.
Planned are Metropolitan Hilarion's meetings with Pope Benedict XVI and with Cardinal Kurt Koch, president of the Pontifical Council for Promoting Christian Unity.