On 10 October 2013, Metropolitan Hilarion of Volokolamsk, chairman of the Moscow Patriarchate's Department for External Church Relations, met with Mr. Gebran Bassil, Lebanon's acting Minister of Energy and Water. Taking part in the meeting which was held at the DECR premises were also staff members of the Lebanese Ministry of Energy and Water and Lebanon's public figures, as well as Archbishop Nifon of Philippopolis, representative of the Patriarch of Antioch and All the East to the Patriarch of Moscow and All Russia, and archpriest Igor Yakimchuk, DECR secretary for inter-Orthodox relations.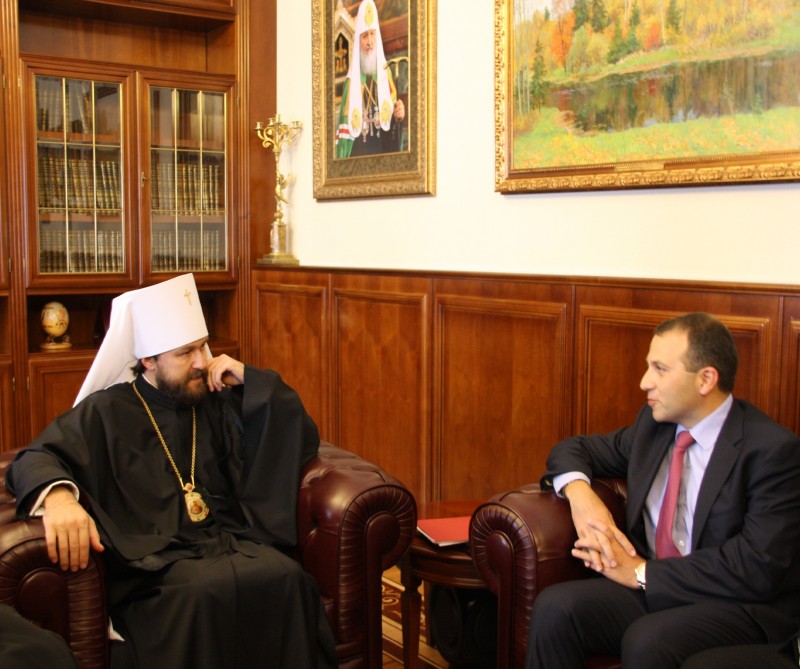 Mr. Bassil expressed his deep gratitude to the Russian Orthodox Church for supporting Christians in the Middle East. The Minister reminded all those present about the history of the region where Christianity had arisen and shared with them his concerns over the unceasing hostilities in Syria and over the sufferings of Christians there. Mr. Gebran Bassil expressed his hope that the situation would stabilize and peace would be re-established in the country.
Metropolitan Hilarion assured Mr. Bassil of the willingness of the Russian Orthodox Church to continue her efforts aimed at defending Christians in the Middle East.