September 24, 2013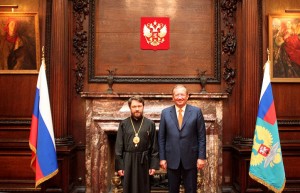 On 23 September 2013, Metropolitan Hilarion of Volokolamsk, chairman of the Moscow Patriarchate's Department for External Church Relations, arrived in London for a three-day working visit. At the London Heathrow Airport, he was met by Archbishop Elisey of Sourozh, clerics of the Sourozh diocese, and representatives of the diplomatic corps of the Embassy of the Russian Federation in Great Britain.
Accompanying Metropolitan Hilarion on his visit are hieromonk Ioann (Kopeikin), assistant to the rector of the Ss Cyril and Methodius Theological Institute for Post-Graduate and Doctoral Studies, and Rev. Alexander Vasiutin, a DECR staff member.
On September 24, the DECR chairman met with His Excellency Mr. Alexander Yakovenko, Ambassador Extraordinary and Plenipotentiary of the Russian Federation to Great Britain. The participants in the meeting discussed a wide range of issues concerning current Russia-UK relations and ties between the Russian Orthodox Church and the Church of England.