On 22 January 2014, Metropolitan Hilarion of Volokolamsk, chairman of the Moscow Patriarchate's Department for External Church Relations, met with Mr. Vygaudas Ušackas, the new head of the Delegation of the European Union to Russia. Taking part in the meeting were also Mr. Piet Blondé, a counsellor of the political section of the EU Delegation; Archpriest Sergiy Zvonarev, DECR secretary for far abroad countries; and hierodeacon Roman (Kiselev), a staff-member of the DECR secretariat for far abroad countries.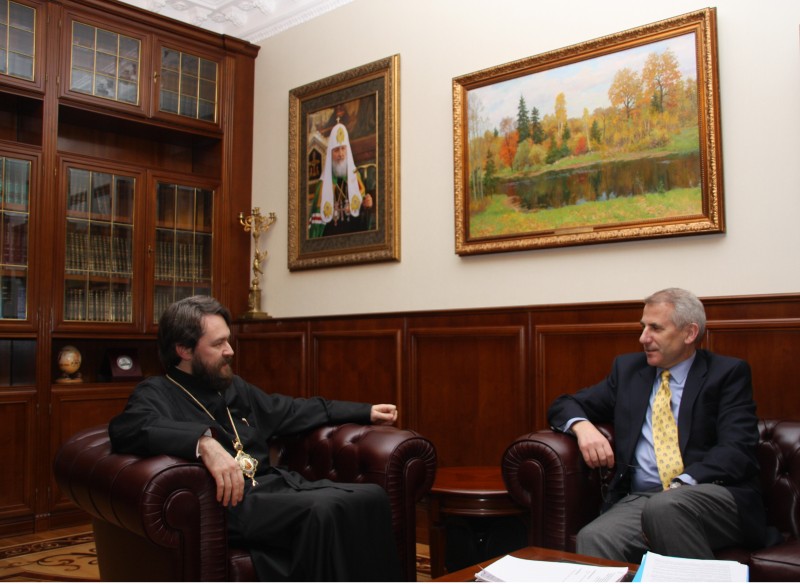 Metropolitan Hilarion congratulated Mr. Ušackas on his new appointment and told all those present about his own ministry in Lithuania and Belgium. Mr. Ušackas shared with the DECR chairman his recollections about his previous work as the EU Ambassador to Afghanistan.
The participants in the meeting discussed the situation of Christians in the Middle East. Metropolitan Hilarion noted, in particular, that the European mass media do not give complete coverage to the issue, while Russia is now the only country which consistently upholds the rights of the Christian population in the Middle East.
Among the topics discussed were also the issues of cooperation between Russia and the European Union. The DECR chairman emphasized that Russia and the European countries shared the same basic Christian values. At the same time, according to Metropolitan Hilarion, the Russian Church is concerned over the erosion of traditional family and marriage, seen in a number of the European countries. He expressed his hope that the Europeans would be able to preserve their civilization identity and centuries-old family principles.