DECR chairman Metropolitan Hilarion of Volokolamsk expressed his condolences to U.S. Secretary of State John Kerry over the terrorist attack committed in Boston on April 15. The text of the message is given below.
Your Excellency,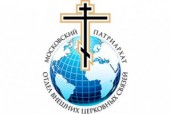 I was grieved to learn about the dreadful terrorist attack in Boston. Please, accept my sincere condolences in these tragic days for the American people. I would like to ask you to convey my words of support to families and friends of the victims.
As a result of this terrorist attack, many people have been killed or injured, or sustained psychological trauma. Our Church, which knows of the price of human pain and sufferings from her own experience, stands firm on the position of inviolability of the sacred gift of life and inadmissibility of actions aimed to intimidate and use violence against civilians.
I hope for a speedy recovery of the injured and for the strengthening of the spirit of those who have lost their relatives and friends. Eternal memory be to the dead.
With condolences,
+Hilarion
Metropolitan of Volokolamsk
Chairman
Department for External Church Relations
Moscow Patriarchate
 Source: DECR