April 19, 2013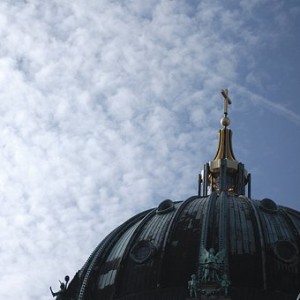 On 23-26 April 2013, Metropolitan Hilarion of Voloklamsk, chairman of the Moscow Patriarchate's Department for External Church Relations, will visit Germany with the blessing of His Holiness Patriarch Kirill of Moscow and All Russia. The visit is timed to the celebrations marking the centenary of the foundation of the Memorial Church of St Alexis in Leipzig and to the year of Russia in Germany and the year of Germany in Russia.
Metropolitan Hilarion will visit Berlin, Leipzig and Potsdam, and will meet with   Mr. Norbert Lammert, President of the Bundestag; Rainer Cardinal Woelki, Archbishop of Berlin, Mr. Vladimir Grinin, Ambassador of Russia to Germany, Mr. Vyacheslav Logutov, Consul General of Russia in Leipzig, Mr. Burkhard Jung, Lord Mayor of Leipzig, and with Prince Georg Friedrich of Prussia, head of the House of Hohenzollern.
The Moscow Synodal Choir will perform in Leipzig during the celebrations.
Source: DECR