On 15 December 2012, Metropolitan Hilarion of Volokolamsk, chairman of the Moscow Patriarchate's Department for External Church Relations, met with Mr. Volkan Bozkyr, chairman of the Foreign Affairs Committee of the Grand National Assembly.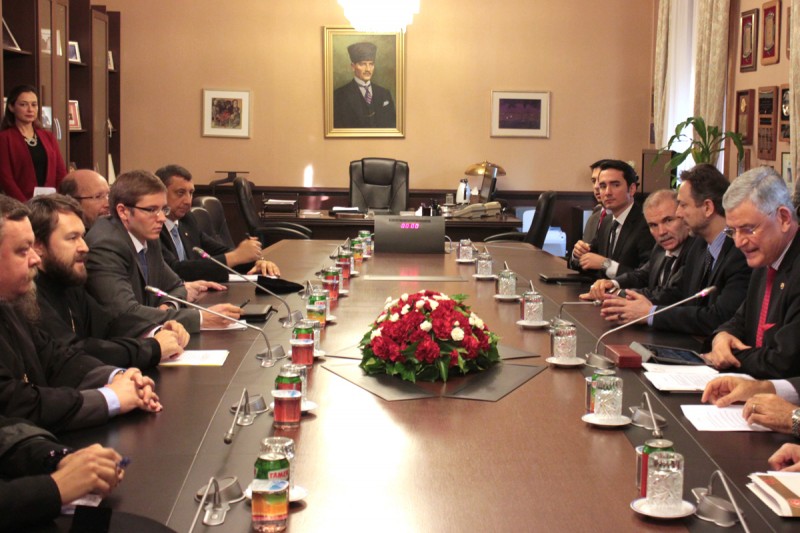 The DECR chairman told him about the meeting of the working group for dialogue between the Russian Orthodox Church and the Residency of Religious Affairs of the Republic of Turkey, the discussed topics and results of the meeting. Metropolitan Hilarion believes the development of interreligious dialogue very important for bother sides and for all religious communities interested in it.
Discussed was the life of the Russians residing in Turkey. Metropolitan Hilarion noted the importance of pastoral care for these people, whose number is no less than fifty thousand.
Also discussed was the development of pilgrimage of the Orthodox to the holy sites located in the territory of Turkey. The DECR chairman is convinced that thanks to religious tourism the people of bother countries will draw closer.
Mr. Bozkyr told Metropolitan Hilarion about recent achievements in the different fields of cooperation between Russia and Turkey and about the Turkey-Russia Social Forum. He is convinced that inter-religious dialogue will bring good fruits.
Participating in the meeting was the Russian Orthodox Church's delegation that included archpriest Vsevolod Chaplin, chairman of the Moscow Patriarchate's Synodal Department for Church-Society Relations; archpriest Nikolai Balashov, DECR deputy chairman; and DECR staff members hieromonk Stefan (Igumnov), deacon Dimitry Safonov and Alexander Yershov. The Turkish side was represented by members and staff of the Grand National Assembly.