May 18, 2013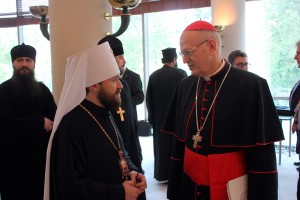 On 16 May 2013, Metropolitan Hilarion of Volokolamsk, chairman of the Moscow Patriarchate's Department for External Church Relations (DECR), currently in Turkey with the blessing of His Holiness Patriarch Kirill of Moscow and All Russia, and his suite venerated Christian holy sites of Istanbul and the monastery of Khor and celebrated Akathistos in the Greek language at the Church of the Mother of God in Blahernae.
On May 17, Metropolitan Hilarion attended the conference on "Religious Freedom Today." He read out His Holiness Patriarch Kirill's greeting to the participants.
The conference, hosted by the Patriarchate of Constantinople, was dedicated to the 1700th anniversary f the Edict of Milan. Taking part in the conference were delegation of the Local Orthodox Churches, representatives of the Roman Catholic Churches and other Christian confession, representatives of the Jewish and Muslim communities of Turkey, scholars, theologians, and public figures from different countries if the world.
Attending the conference on behalf of the Russian Orthodox Church were also Metropolitan Pavel of Ryazan and Mikhailov; archpriest Igor Yakimchuk, DECR secretary for inter-Christian relations; hieromonk Sergiy (Akimov), acting abbot of the Ryazan Monastery of the Transfiguration; and Rev. Mikhail Asmus, a DECR staff member. His Holiness Patriarch Bartholomew of Constantinople delivered a report. Archbishop Péter Erdö of Esztergom-Budapest, President of the Council of Episcopal Conferences of Europe, and Metropolitan Emmanuel of France (Patriarchate of Constantinople) presented reports on the significance of the Edict of Milan.
Metropolitan Hilarion is accompanied by archpriest Igor Yakimchuk, DECR secretary for inter-Orthodox relations, and Alexander Yershov, assistant to the DECR chairman.
Source: DECR