June 10, 2013
Metropolitan Anthimos of Thessaloniki characterizes the homosexual event on the weekend of June 14-15 as a shame, a challenge, and a symptom of corruption. In his issued statement he calls on the faithful to abstain and remove their children from such events.
Below is the statement of the Metropolitan of Thessaloniki: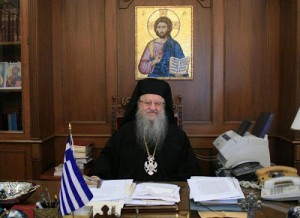 The Sacred Metropolis of Thessaloniki with great sadness and deep concern is obligated once again to treat pastorally and preventavely the unpleasant, unacceptable, and reprehensible presence of homosexuals, who are preparing a festival on June 14 and 15 to parade through Thessaloniki showcasing their passions in the form of a carnival. It is a shame, it is a challenge, and it is a symptom of corruption. But it is a municipal decision of our City and especially of our Mayor John Boutari. The only concession of the Mayor after our discussion was that this disgraceful concentration not take place in front of the churches of Saint Sophia and Saint Gregory Palamas, but in Liberty Square, far from the churches.
But I have to announce to the public that there were similar events in the capital of Georgia which brought conflicts and riots from the sacred Clergy and the Christian people, who did not want this miserable spectacle. And something else of equal importance: a French citizen, a former MP, 78 years old, killed himself in front of the Holy Altar of the Sacred Church of Notre Dame Cathedral in connection with France's just-approved same-sex marriage bill.
I further want to inform the men and women of Thessaloniki that I was visited in the Sacred Metropolis and given a folder of 19,500 signatures, approved, where they proclaim loudly and strongly against the presence and visibility of homosexuality in our city of Thessaloniki. They are perfectly justified and I agree with their views. I expect them again.
Finally I want to note, that no matter how serious or explosive the issue is, we Orthodox Christians do not ever practice violence. Therefore as a Bishop I will never recommend conflicts or injuries within our society. I plead with you, remove your children and yourselves from such unholy and unnatural manifestations, generate everywhere your objection to the passion of homosexuality, and pray for these people to get rid of their passion and return to a natural life, as taught by our faith and our traditions.
However, it would be correct for Mr. Mayor to thwart the presence of this carnival in our land.
The Metropolitan of Thessaloniki
Anthimos
From the Sacred Metropolis of Thessaloniki